Swiss watch manufacturers achieved a new record for exports to India in 2022, with the momentum continuing into the first two months of 2023, according to data released by the Federation of the Swiss Watch Industry.
In 2022, India ranked 23rd in terms of Swiss watch exports to countries, with sales worth '1,722.88 crore, marking a growth rate of 19.6% from '1,438.84 crore in 2021.
This came after a dip in Swiss watch exports due to the Covid-19 pandemic; in 2020, exports were recorded at '889.36 crore.
Exports to India reached '271.72 crore during January-February 2023, representing a substantial 27% surge from the corresponding period in the previous year.
"Undoubtedly, 2022 has been the best year in terms of overall value. In fact, we are currently performing below our potential. Considering the size of our economy, we should be achieving significantly higher numbers. As the fifth largest economy in the world, India boasts a significant number of people within the top 1-2% of the economic spectrum, making them a valuable target audience for our segment," said Yasho Saboo, founder & chairman, Ethos Watches, India's largest retailer of Swiss watches.
The Swiss report shows that even exports to countries like Thailand, Mexico, Austria, and Turkey are higher compared to India.
The luxury industry has seen a global and Indian surge in demand despite the pandemic's impact as consumers shift towards more indulgent purchases for comfort and enjoyment amidst uncertainty and upheaval.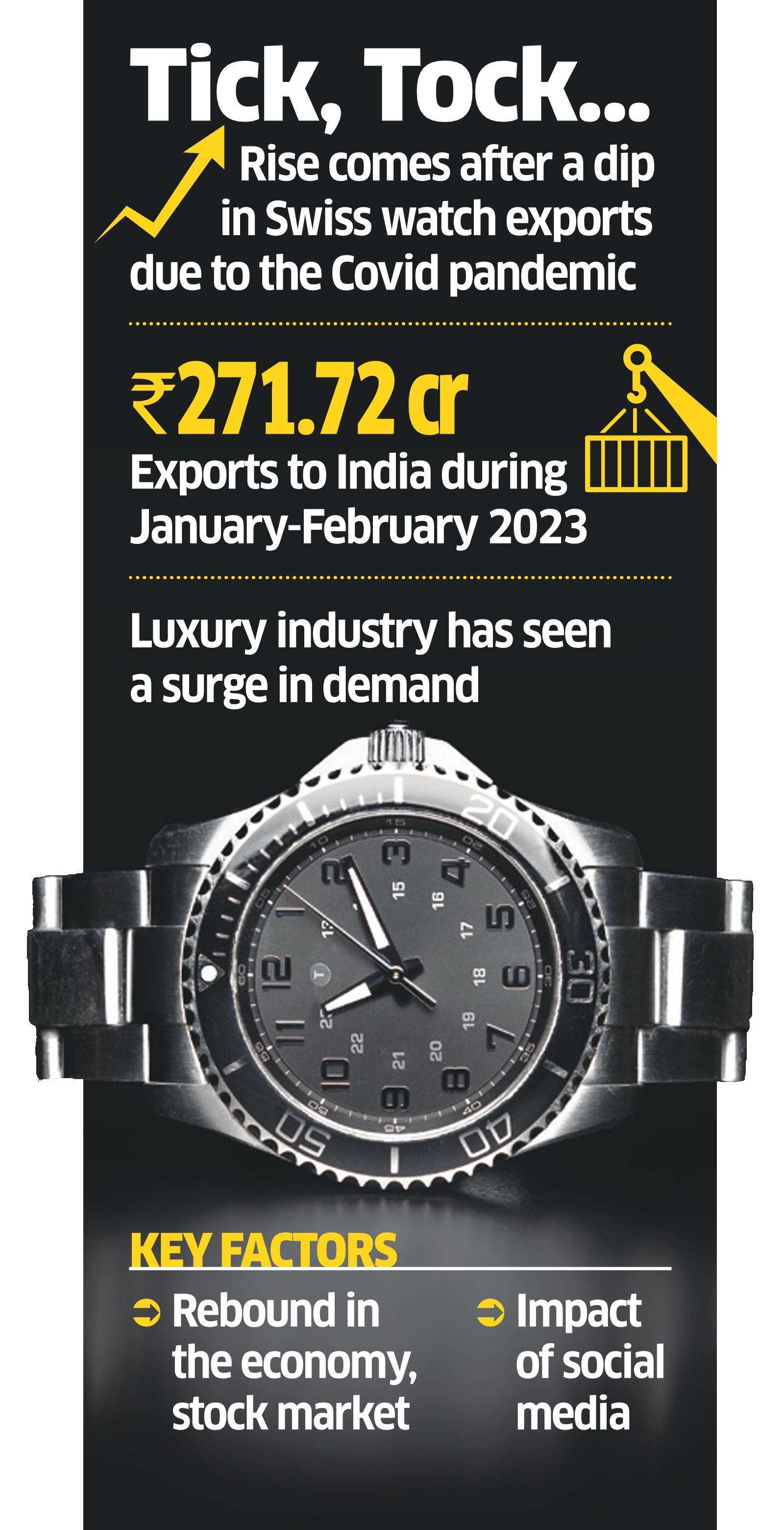 The rebound in the economy and stock market led to an increase in wealth among upper-class Indians, further fuelling sales of luxury watches. Additionally, the impact of social media played a significant role in driving up demand for luxury goods. The constant stream of aspirational content on various platforms created a strong desire among consumers, contributing to the notable uptick in the luxury market.
"With fast growth rates, India has been the talking point of the Swiss watch industry. The last two years have been the best ever in terms of sales of Swiss watches in India. Though our base is small, with discretionary spending going up, we expect sales of luxury watches to go up," said Pratiek Kapoor, head of marketing and operations, Kapoor Watches, a NCR-based watch retailer.
According to Kapoor, while the '1-3 lakh segment is the fastest-growing segment in India, there are a number of watch collectors who are opting for higher priced watches with novelty features.