There is no other piece of clothing in your wardrobe that can beat the versatility of blue jeans. Regardless of season or occasion, you can dress up in Blue Jeans Matching shirt, t-shirts, jackets, blazers, polo tees, or denim shirts effortlessly. Here, we discuss 'what to wear with blue jeans' according to the occasion and your personality.
Blue jeans matching shirts combination is a fashion statement for decades and is worn by people of all ages and gender. It's the most affordable, versatile, stylish, and timeless outfit for everyone. There are many shades available in blue jeans such as pale, dark, light, navy, sky, ice, sapphire, and neon to wear with a variety of shirts. Matching shirt and accessories you wear along with blue jeans would depend on many factors such as occasion, time, season, and personality. By styling Blue Jeans Matching Shirt with complementing elements you can easily enhance your look and feel confident. Let's find a pair of matching blue jeans combination shirts that are stylish and versatile.
Best Blue Jeans Matching Shirts Combinations to Stand You Apart
1. Blue Jeans Matching Plain Shirts
Jeans are the most versatile and loved garment pieces by men. As we all know that blue is the favorite color of men and boys. Blue jeans can be matched with various plain shirts in different ways, depending on your personal style and occasion. Here are some best blue jeans combination shirts ideas in a plain design.
Sky blue jeans and white shirt combination
A classic white shirt is the finest option that goes well with blue jeans. You can keep it casual with a plain tee and dress up with a matching button-up shirt. Best look for go-on date, formal occasions, workplace wear, and college wear.
Light blue jeans with matching navy blue shirt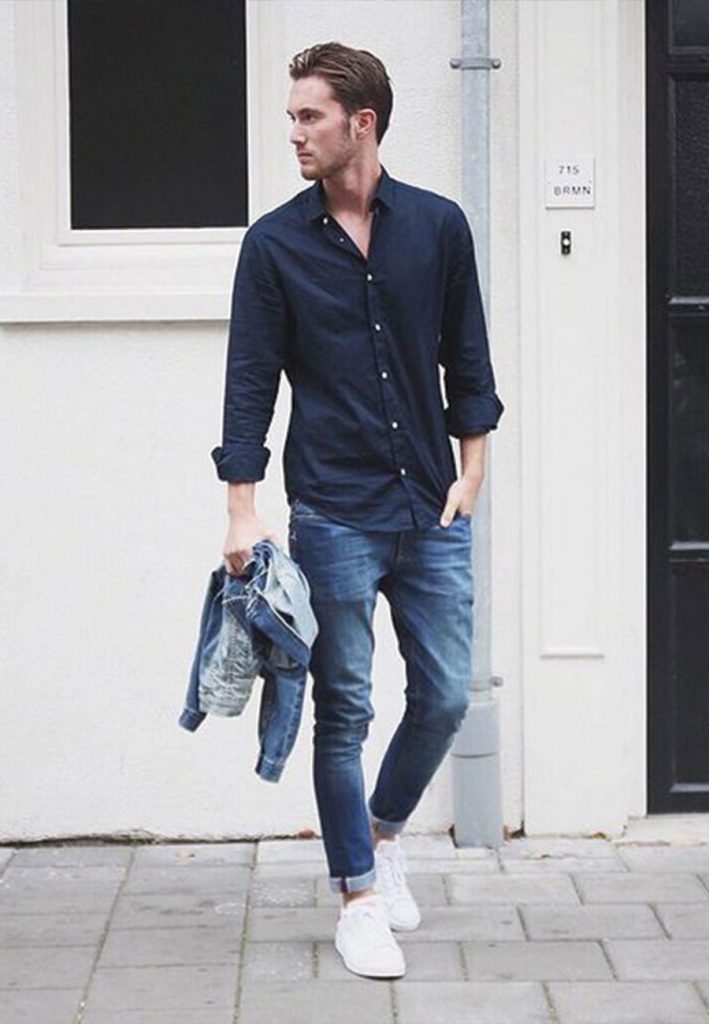 Light blue jeans matching shirts in navy blue color can create a stylish and balanced look. As light blue jeans add a touch of casualness while a navy blue shirt adds sophistication. A combination of blue jeans and a blue shirt is a great option for both formal and semi-formal events. To add some elegance to your look, you can accessorize a brown belt, metal belt watch, and shoes.
Ice blue jeans with a black shirt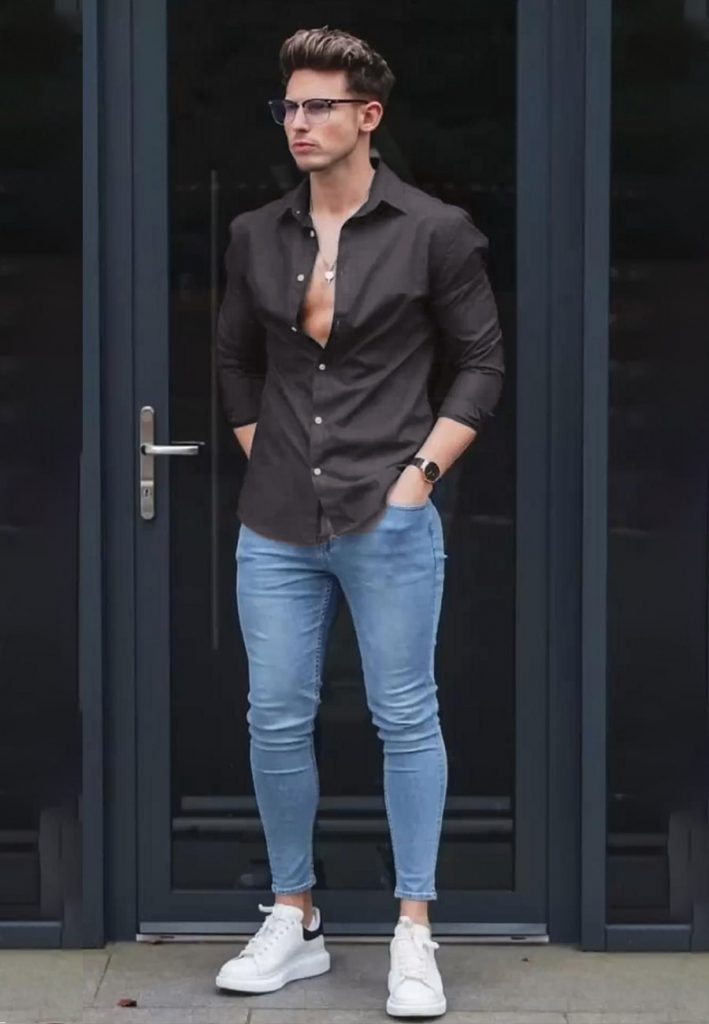 For a more edgy and stylish look, you can try your ice-color blue jeans with matching black shirts. Blue jeans and black shirts combination is a versatile outfit that can be worn on any occasion or function or in any season. Sneakers and belt can help you maintain a cohesive look in this blue jeans outfit. This is one of most popular blue jeans matching shirt combination among young and stylish men.
Navy blue jeans and rust orange shirt combination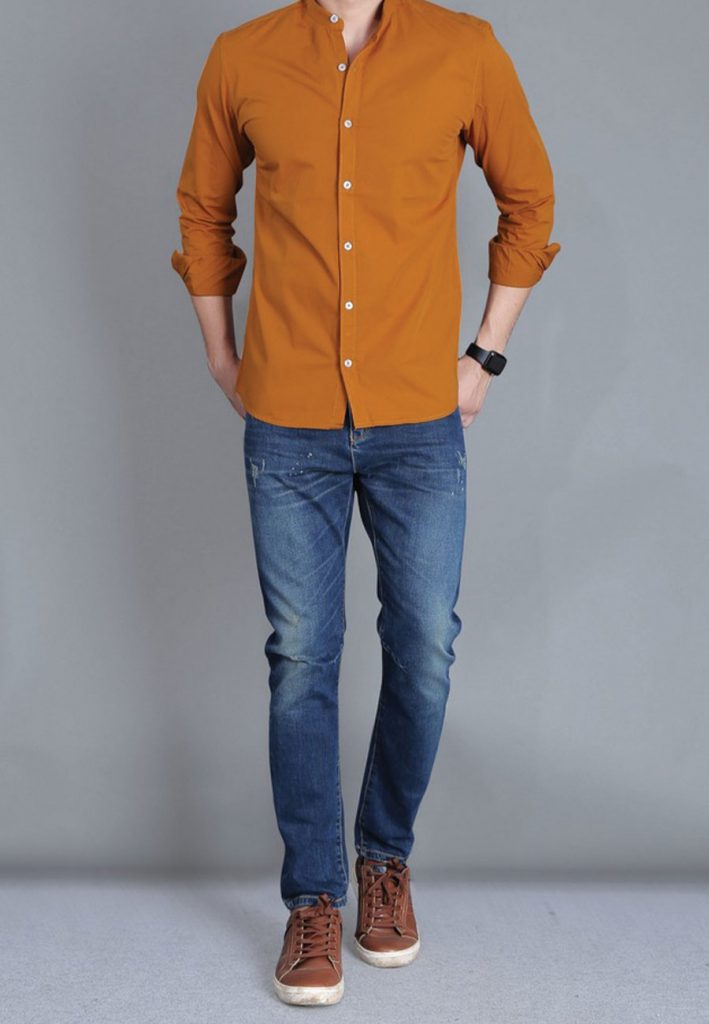 Blue jeans matching rust orange shirts combination best suited for casual occasions. The combination is a perfect example of a fun, creative and stylish outfit. To create a relaxed and stylish look, leave your orange shirt untucked and roll up the sleeves. A simple watch or bracelet can add some personality to the overall look.
Dark blue jeans with an olive green shirt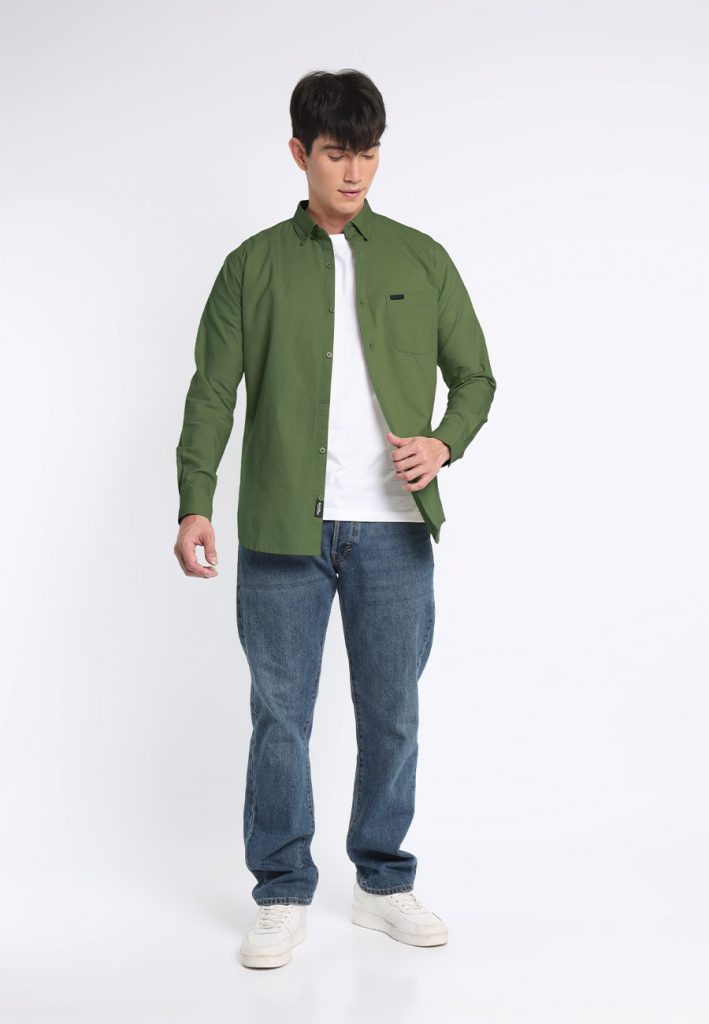 Blue jeans matching shirt in green color are the best way to create a stylish and eye-catching outfit. Olive green plain shirts go well with dark blue jeans and navy blue jeans. To complement the look, you can add neutral elements like a leather belt and matching shoes.
Blue jeans matching purple shirt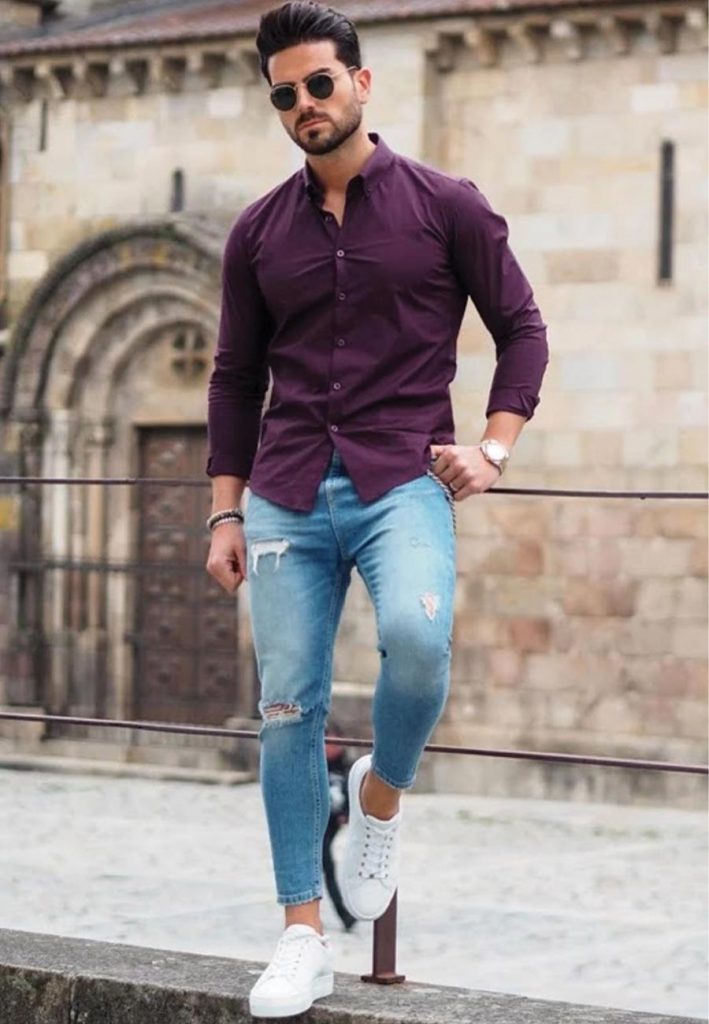 Blue jeans and purple shirts combination is very trendy nowadays which looks very fashionable and cool. Especially, if the shade of purple shirts is not too intense or shiny. Blue jeans matching shirts in dark purple color is a cool pairing as the purple shade creates a harmonious and subtle look. You can dress it down with matching sneakers according to the vibe you're looking for.
Blue jeans with grey shirt (Cement grey)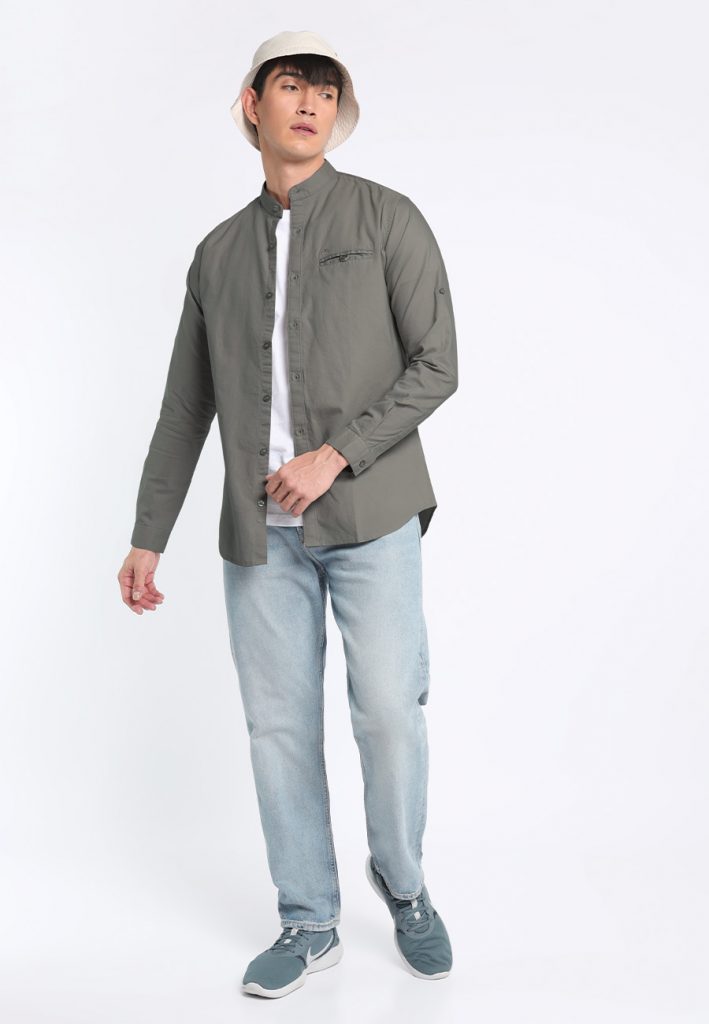 Fine blue jeans matching grey shirt combination creates an effortless and stylish look. Grey is a neutral color that goes well with all shades of blue jeans including dark blue and sky blue jeans. Choose a brown leather belt, matching shoes, and a cool beard cut to add some personality.
2. Blue Jeans Combination with Check Shirts
Blue jeans matching check shirts look casual yet stylish. A small or medium size check design in natural colors like black, white, grey, or red goes well with blue jeans. To complete the look, you can wear complementary shoes or boots with accessories like a belt, and a watch. Let's have a look at some fashionable blue jeans matching shirt in checked patterns for 2023:
Matching light blue jeans with dark blue check shirt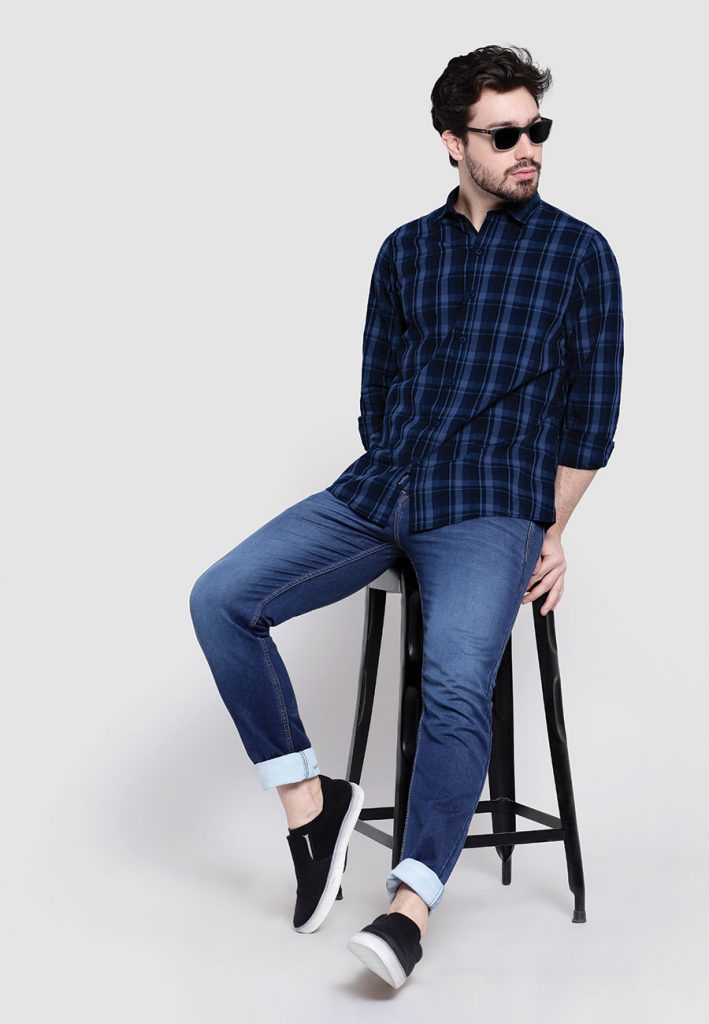 Light blue jeans can be paired with a dark blue checked shirt for a smart and casual look. The evergreen combination of light and dark shades creates a pleasing contrast. That can be worn on both casual and semi-formal events. You can add a blazer or matching color jacket in winter to complement the whole look.
Blue jeans matching checkered flannel shirts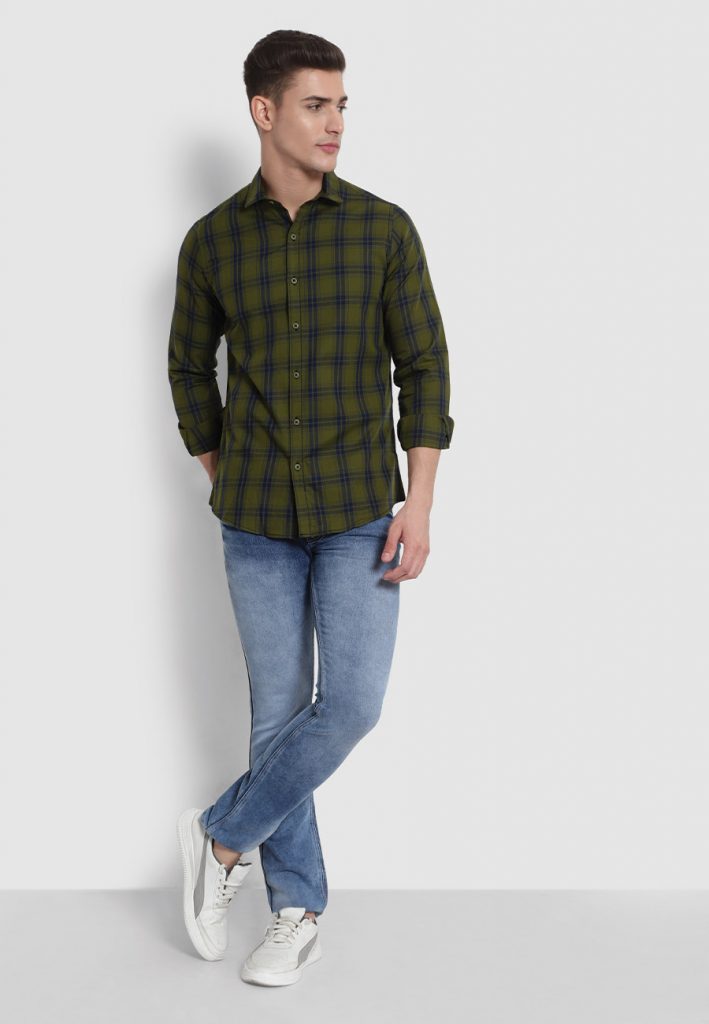 Blue jeans and checkered flannel shirt combination look very classic and cozy. Flannel shirts are perfect top wear with blue jeans in the winter season as they are soft and have a warm texture. Red and black color flannel shirts go well with blue jeans. If you wonder what to wear or match with jeans then i must say this is one of finest and evergo blue jeans matching shirt outfit.
Blue jeans with blue and white check shirt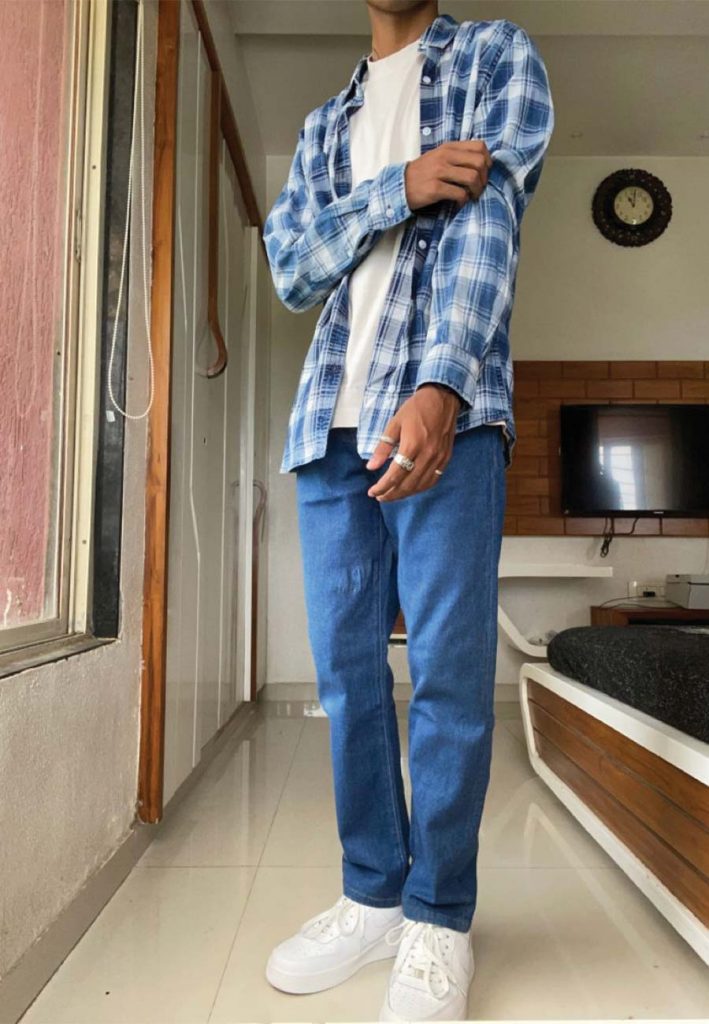 Blue-white mixed check shirts make a bold statement when paired with blue jeans. White checked shirts will create a classic formal look with matching blue jeans.
Blue jeans and orange blue check shirts combination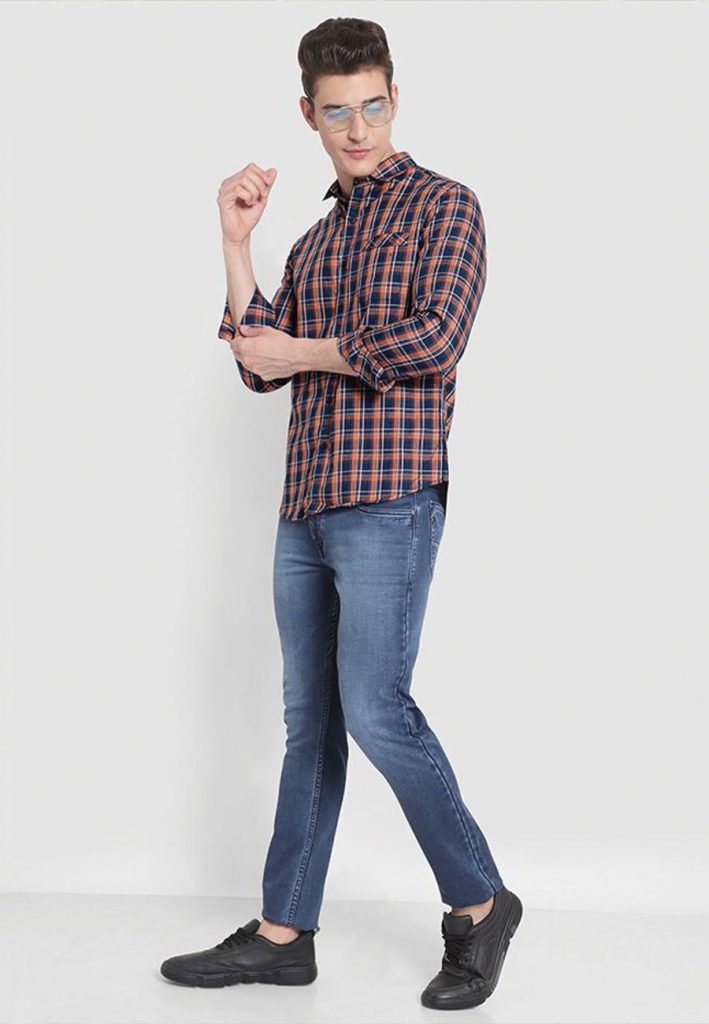 You can create a stylish statement with a sleek outfit by wearing blue jeans and a orange checked shirt. Complete your look by wearing cool sneakers or sports shoes and wrist watch.
Dark blue jeans matching rust & navy checks shirt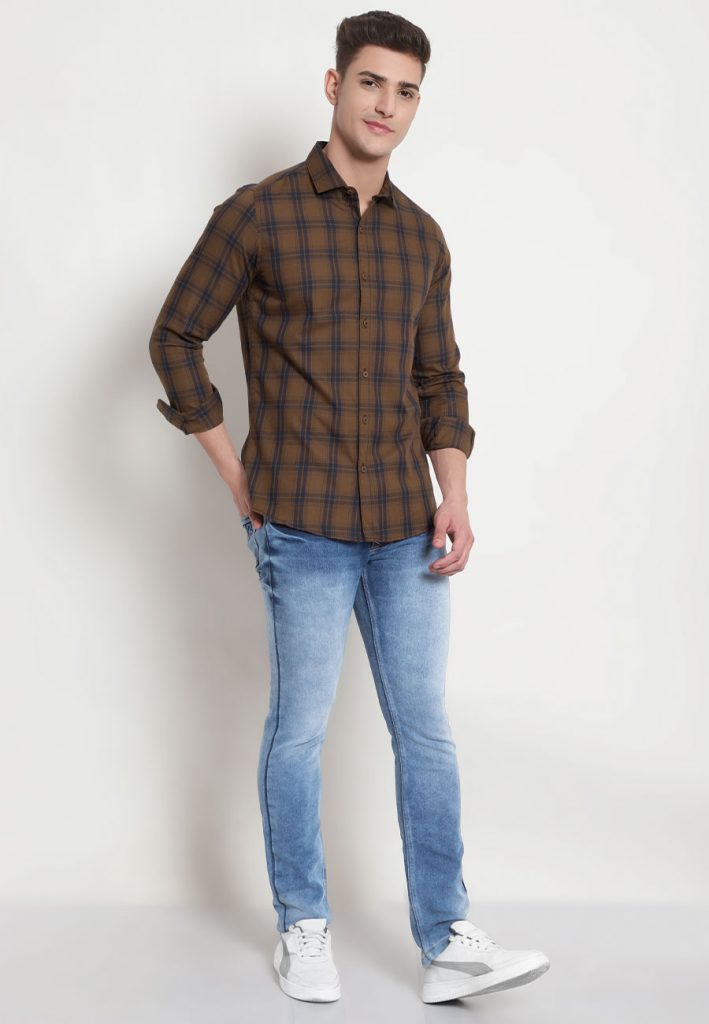 The combination of rust navy checked shirts and dark blue jeans is one of the versatile outfits for men. The shirt can be worn tucked in or left out with folded sleeves. A pair of black shoes or sneakers and a simple watch will complete the look. If you are stuck on "how to wear blue jeans" then this is the best combination for casual occasions and outings.
3. Blue Jeans Matching Striped Shirts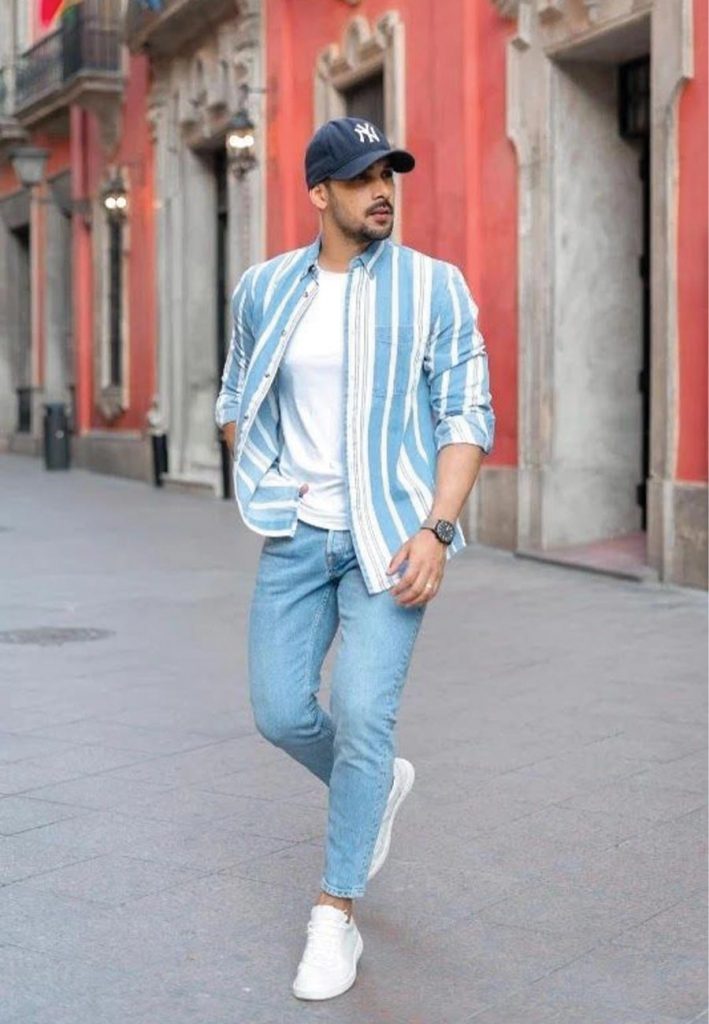 Combination of blue jeans matching striped shirts create a smart and informal look that is ideal for a night out with friends, weekend brunch, and casual gatherings. You can choose black and white striped shirts for a casual look. Or, go for a blue-striped white shirt for a more playful and stylish look. Share this trendy and cool blue jeans matching shirts combination with your friend.
4. Blue Jeans Combination with T-shirts & Blazer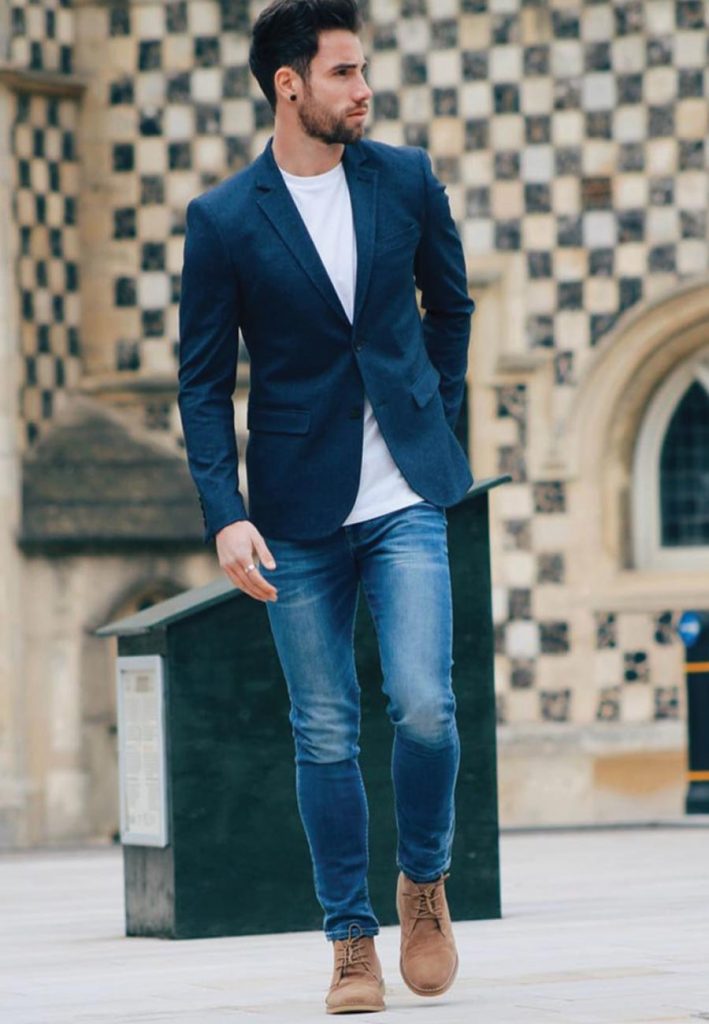 Create smart casual blue jeans outfit with t-shirts and a blazer that is perfect for casual occasions, night out, and semi-formal events. Just be sure blazers and t-shirts fit well and complement each other. If you wanna impress your crush and GF then combine blue jeans matching blazer and t-shirt. Matching shoe pairs and hairstyle will enhance your personality and complete the look.
5. Blue Jeans Matching Shirt in Denim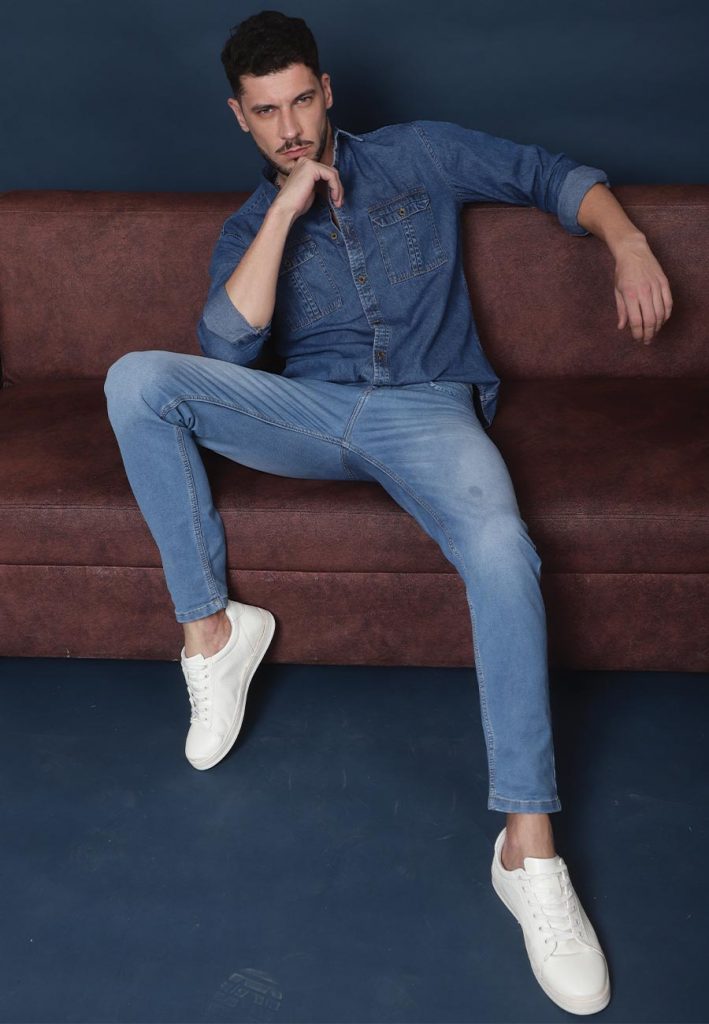 Pairing blue jeans and denim shirts is the most versatile combination of blue jeans that look stylish and smart. You can wear blue jeans – denim shirts combination in a variety of ways. This outfit is perfect for casual days because it provides both comfort and style. Blue jeans matching shirts in denim are a timeless and easy-to-wear combination that can be customized according to your fit and personality.