Are you looking for a bold & stylish outfit for a wedding? Backless Blouses are the best way to add elegance and glamour to your saree or lehenga outfit. Ask your fashion designer to make a customized blouse that elevates your style and glance by creating a well-fitted Backless Blouse Design for you.
Backless blouses have been a rage in the women's fashion world for decades. Backless blouses are perfect for adding a touch of femininity and romance to an outfit. It's perfect for formal occasions, weddings, casual events, and cocktail parties. Be it stylish brides or fashion divas at weddings, Backless Blouse Designs are extremely popular among them. These blouses are a must-have clothing for every fashion-conscious women's wardrobe. Usually, these blouse backless designs are made with soft fabrics such as silk, satin, georgette, and chanderi, and have a cut to expose the back. You can choose a neckline according to your preference, it can be a high neck or low neck. So, backless blouse designs are forever the favorite choice among fashionistas. It is the perfect way to add sensuality, style, and glamour to any outfit.
From deep backless blouses to knot dori blouses, back less blouse design options are endless and you can cater them to a wide range of occasions. Let's Explore Some of the most stunning and alluring Backless Blouse Designs that will you stand apart from the crowd.
Latest Backless Blouse Designs to Look Like Celebrities
1. Inverted V Design Backless Blouse
An inverted V backless blouse features a V shape cutout at the back of the blouse design. V shape can be created in various styles such as lace-up closure, zipper, or simply by cutting the fabrics to form the shape.
V shape Deep Backless Blouse Designs are popular for their unique and eye-catching appearance. This blouse is usually worn for special occasions like weddings, social gatherings, and high-level formal events.
The blouse's Backless design can be dapper and bold, depending on how you're styling them. Inverted V Backless blouses can be paired with a high-waisted skirt, lehenga, or beautiful sarees.
This blouse can be made with silk, chiffon, or lace and can be embroidered with sequins, beads, or embroidery.
2. Basic Backless Blouse Designs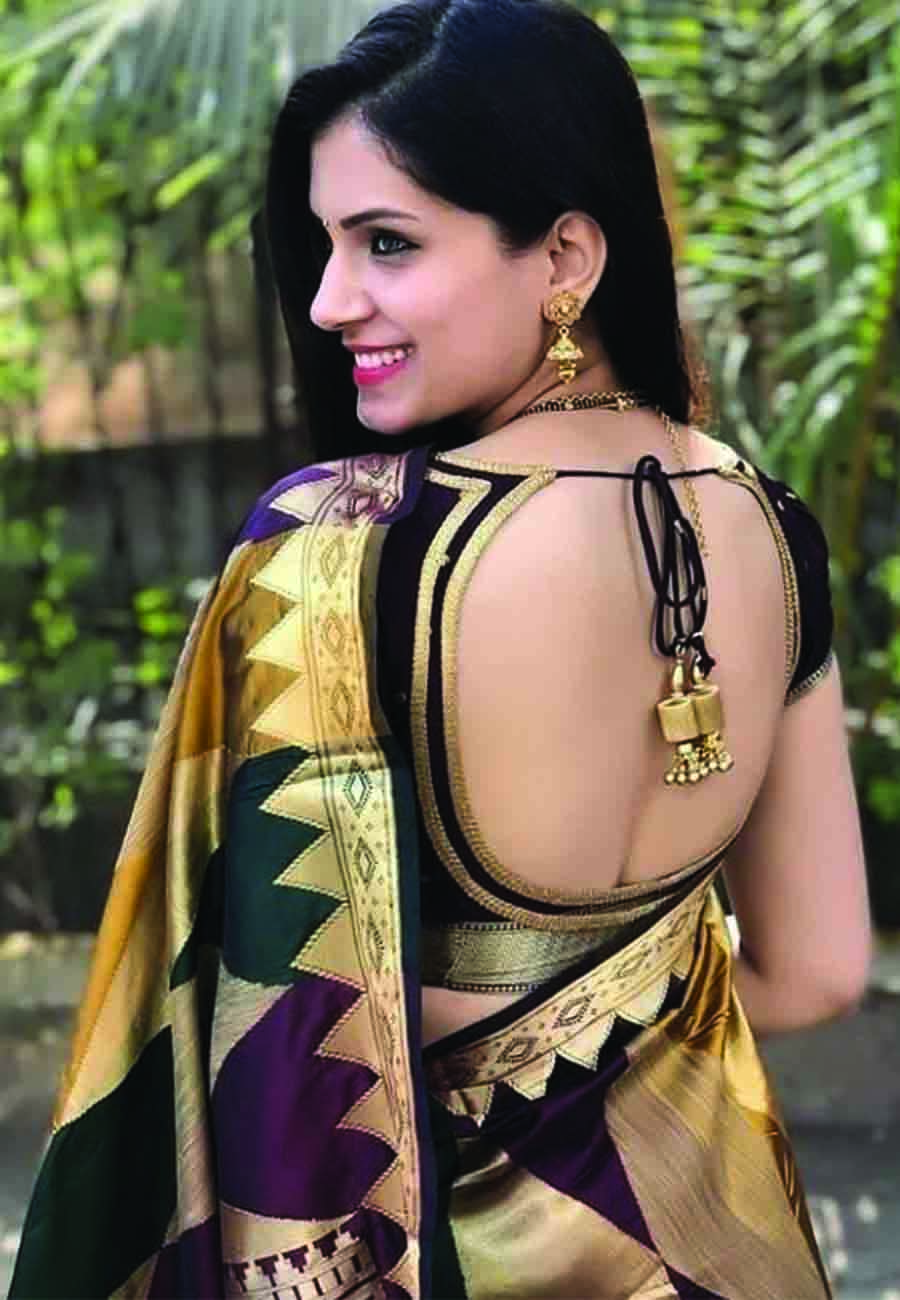 Basic backless blouse designs are an evergreen fashion staple that never goes out of style. It's a simple yet alluring blouse design that adds a touch of sophistication and sexiness to any outfit.
Whether you are dressing for wedding events or just wanna make a statement every day, a basic backless blouse design is perfect for you. This is a versatile piece that can be dressed up or down for any casual or formal event. This wardrobe essential is sure to turn heads and make you feel confident and beautiful.
3. Backless Blouse with Knot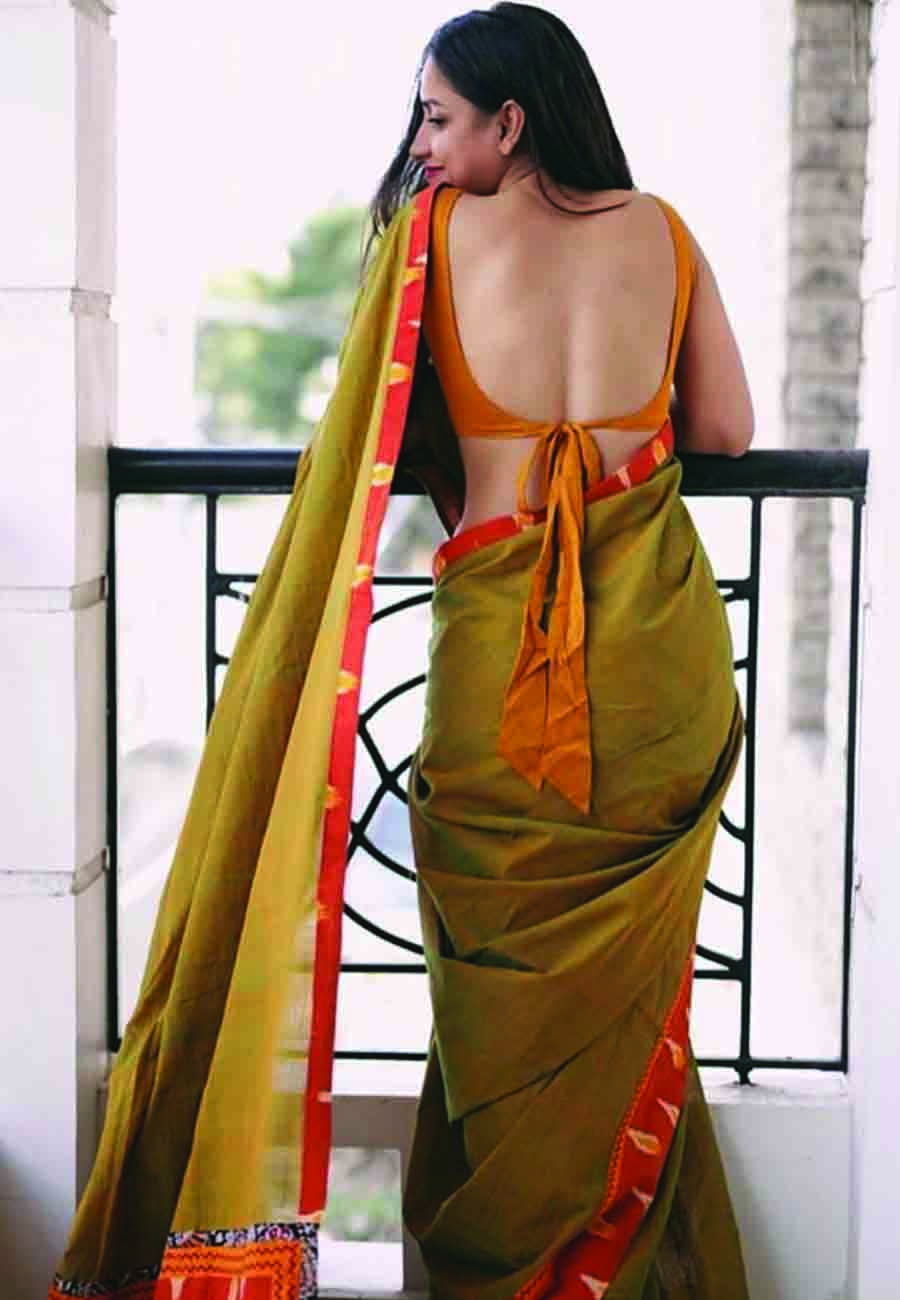 A Backless blouse with a knot is an attractive and chic design that can be styled with various sarees. These blouses have a knot or bow at the back with a single or double string open back.
The Knot Backless blouse designs create a flattering and eye-catching appearance that highlights the shoulder with an open back. Knots can be made of fabric, ribbon, or chains which add a distinctive and fashionable touch to the blouse design.
This design is perfect for women who want to show off their backs but still want to maintain a sense of dignity and culture. It can be the perfect top wear on sarees for weddings, fashion event, and casual events.
4. Sleeveless One-shoulder Backless Blouse Design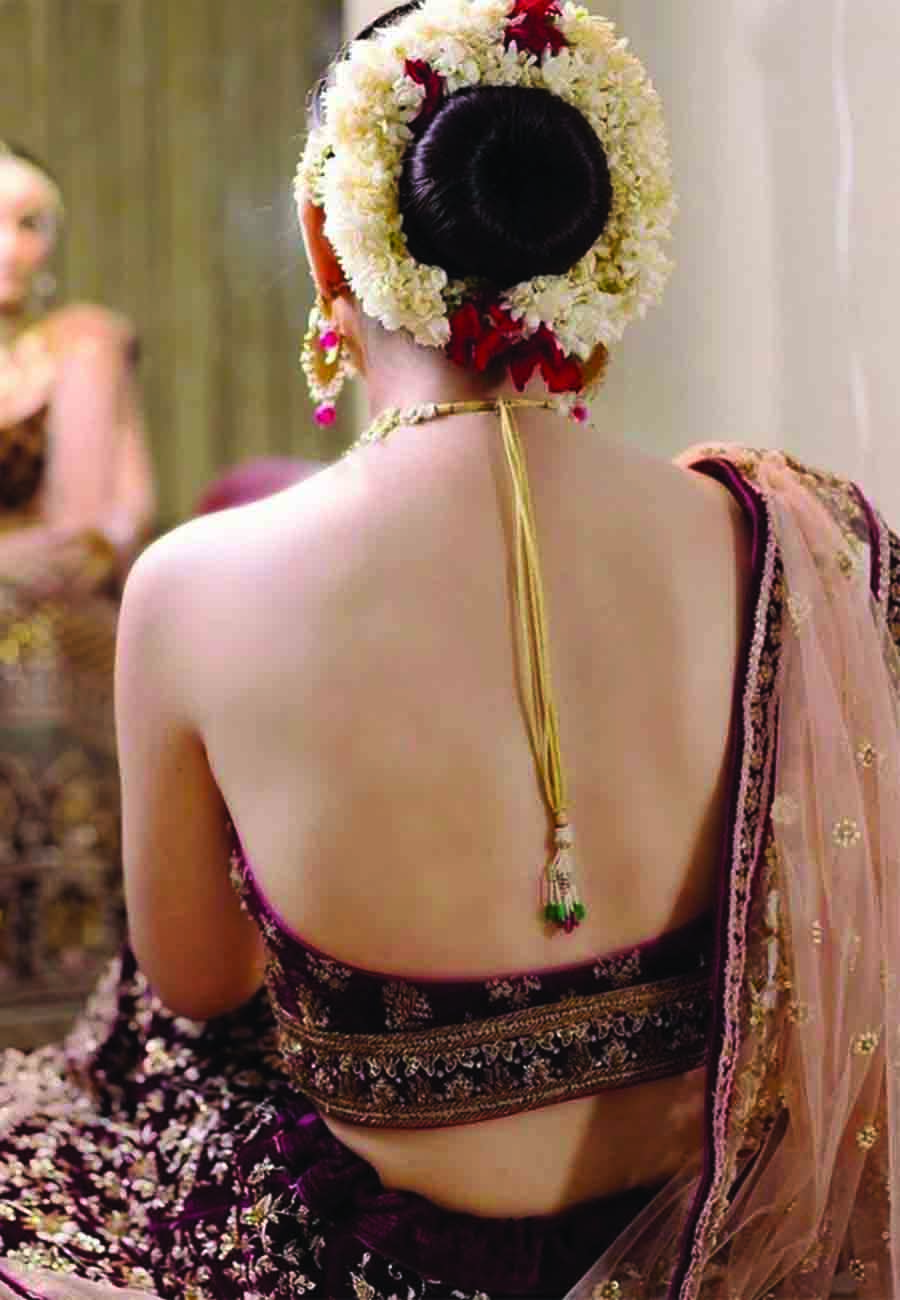 A sleeveless one-shoulder backless blouse is a stylish and sexy blouse design that is perfect for making a bold statement. The sleeve less backless blouse design features a single shoulder strap and an open back. This blouse design creates a sharp and eye-catching look that's sure to turn heads.
The sleeveless design of the blouse allows you maximum comfort and free movement of the hand, while one-shoulder details look absolutely stylish and hot.
A Sleeveless shoulder Backless blouse is a popular choice for weddings and fashion walks. But, it can also be dressed up for a night out or a casual day look. In this blouse design, a one-shoulder design creates a chic and trendy look. This blouse can be made of a material such as silk, chiffon, edgy leather, or mesh.
5. Two-String Backless Blouse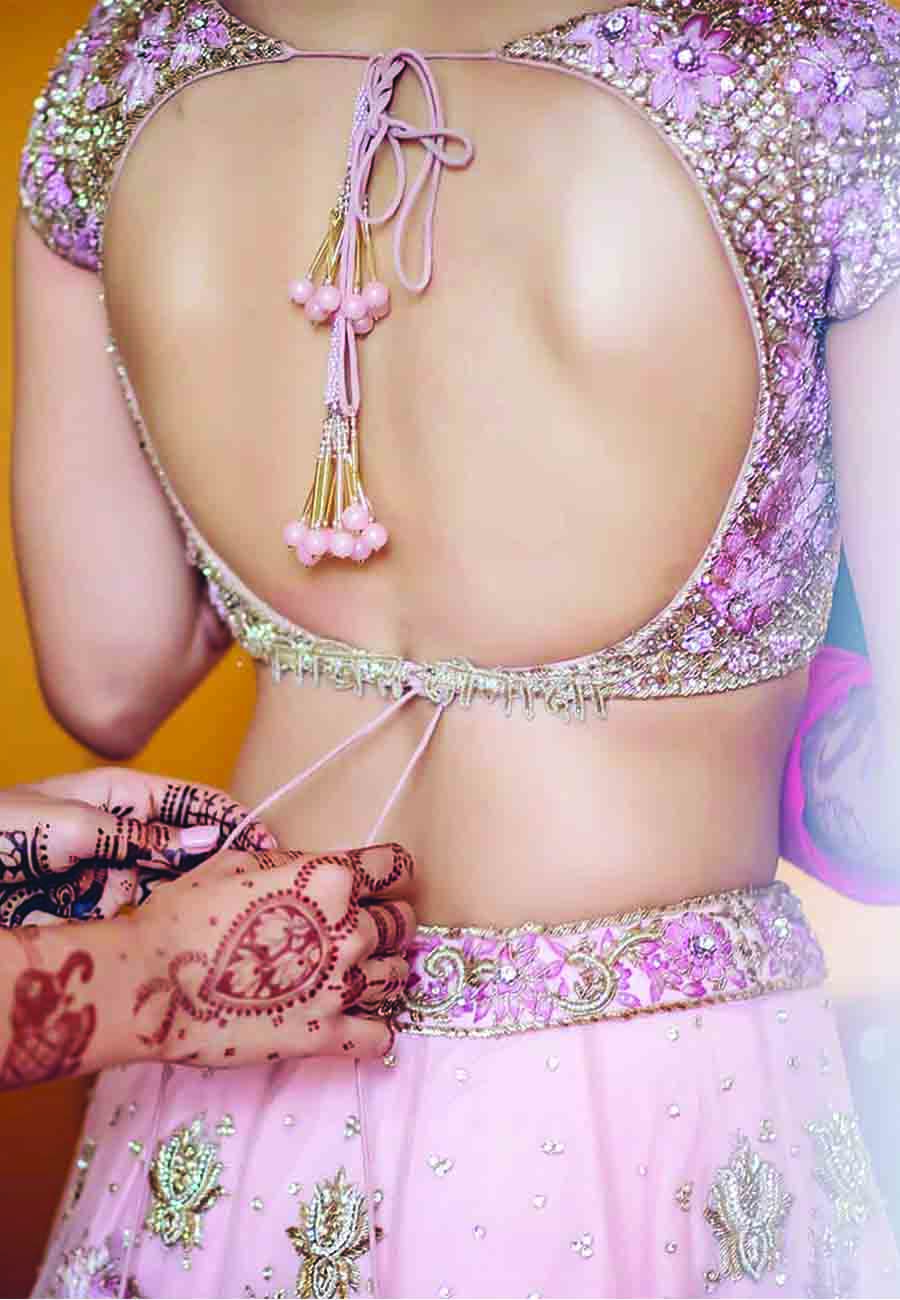 Two-string backless blouse design is a stylish and trendy choice to look sexy in lehengas and long skirts. It comes in endless styling options and many unique designs.
This Blouse Backless Design features two string that crosses over the back, this blouse creates an alluring and daring look that highlight your open back and shoulders. These strings can be tied in many ways from simple to intricate designs. These strings tie styles will add an extra element of creativity and fashion style to the blouse design.
Double-string backless blouses are a popular choice for nights out, summer festivals, and beach vacations. These backless blouses add a trendy and modern touch to any outfit by creating a sexy and unforgettable look.
6. Backless Blouse with Extended Drapes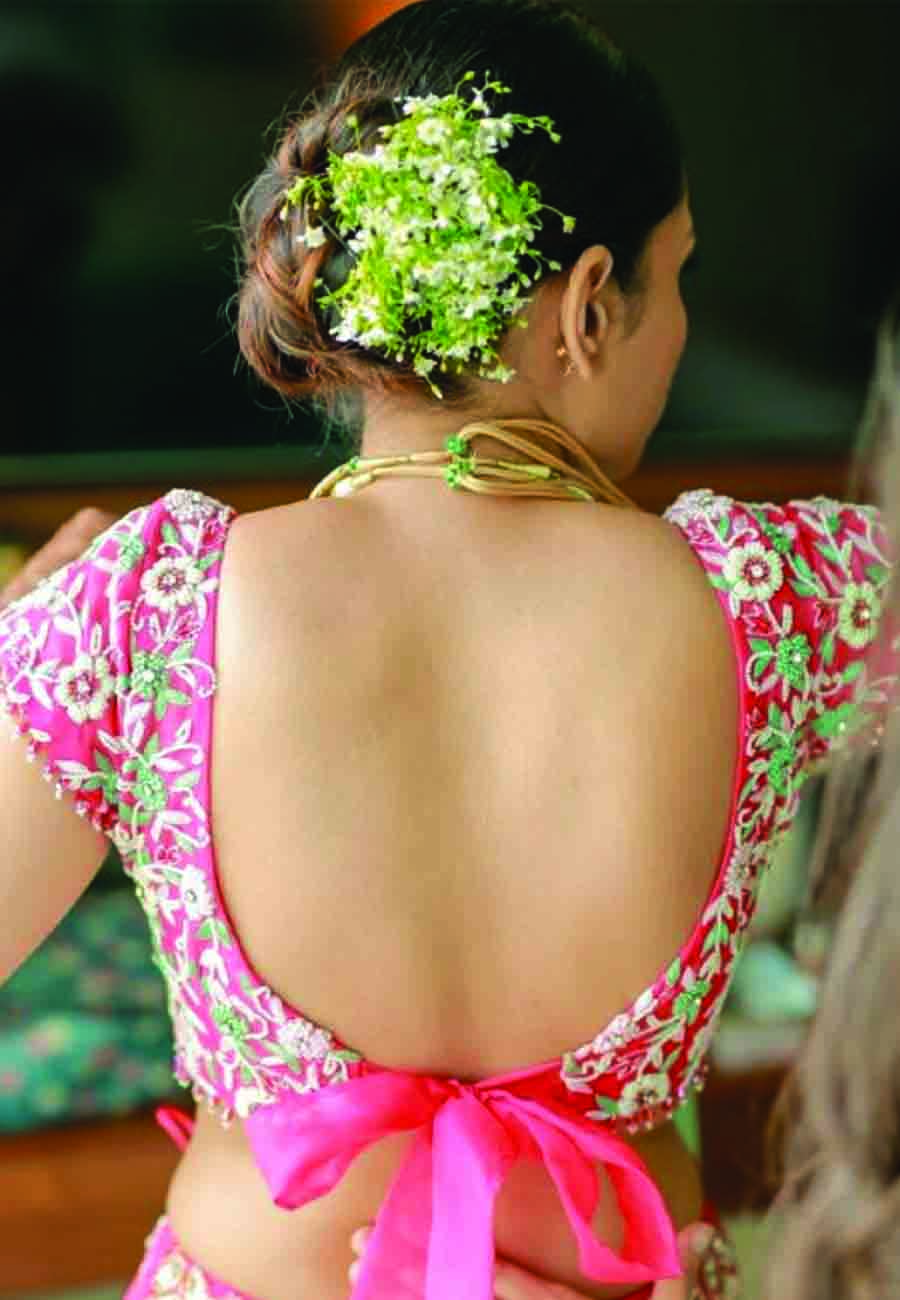 The backless blouse with extended drapes is a stunning and elegant design that adds a touch of sophistication to any outfit. This blouse features long fabric drapes that drape down at back, and create a scenic and eye-catching effect.
Extended drapes add movement and flow to the blouse that will leave everyone mesmerized. This cool blouse can be made with lightweight chiffon, velvet, or luxurious satin material.
This is currently one of the fashionable and trendy backless blouse designs among brides and diva ladies.
7. Triangular Cut Backless Blouse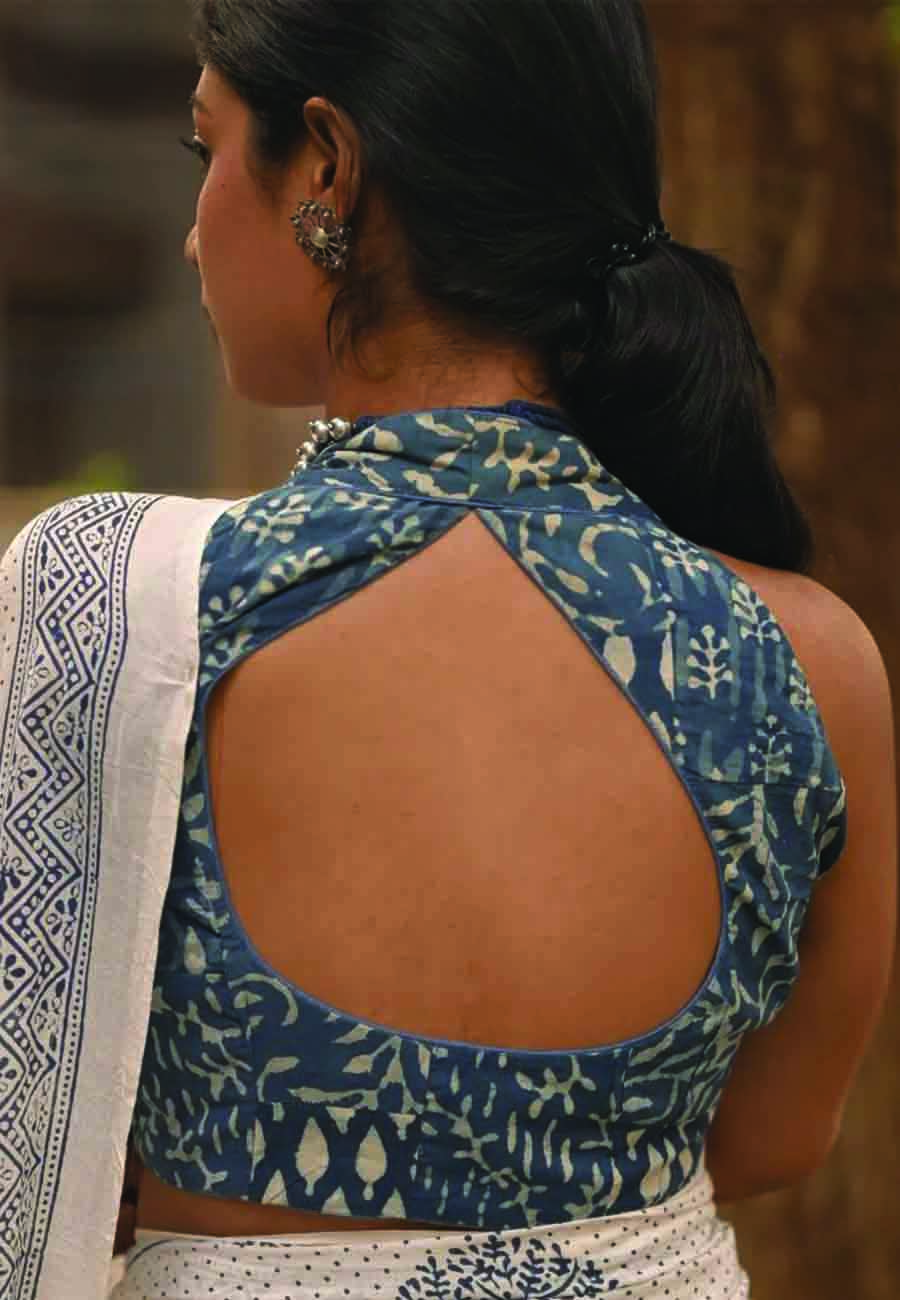 Triangular cut backless blouses are beautiful and gracious blouses that can be adorned with sarees, lehenga, and skirts on various occasions. It's a very trendy backless blouse design that gained huge popularity in recent years.
This is the perfect choice for anyone who wants to show off their figure and open back. If you add some statement jewelry and heels according to your personality then your look will be complete.
You can choose from a range of colors but classic black, white, and bold bright shades will be more complimenting. You can explore a variety of designs and styles in a triangular blouse with a backless design.
8. Criss-cross Backless Blouse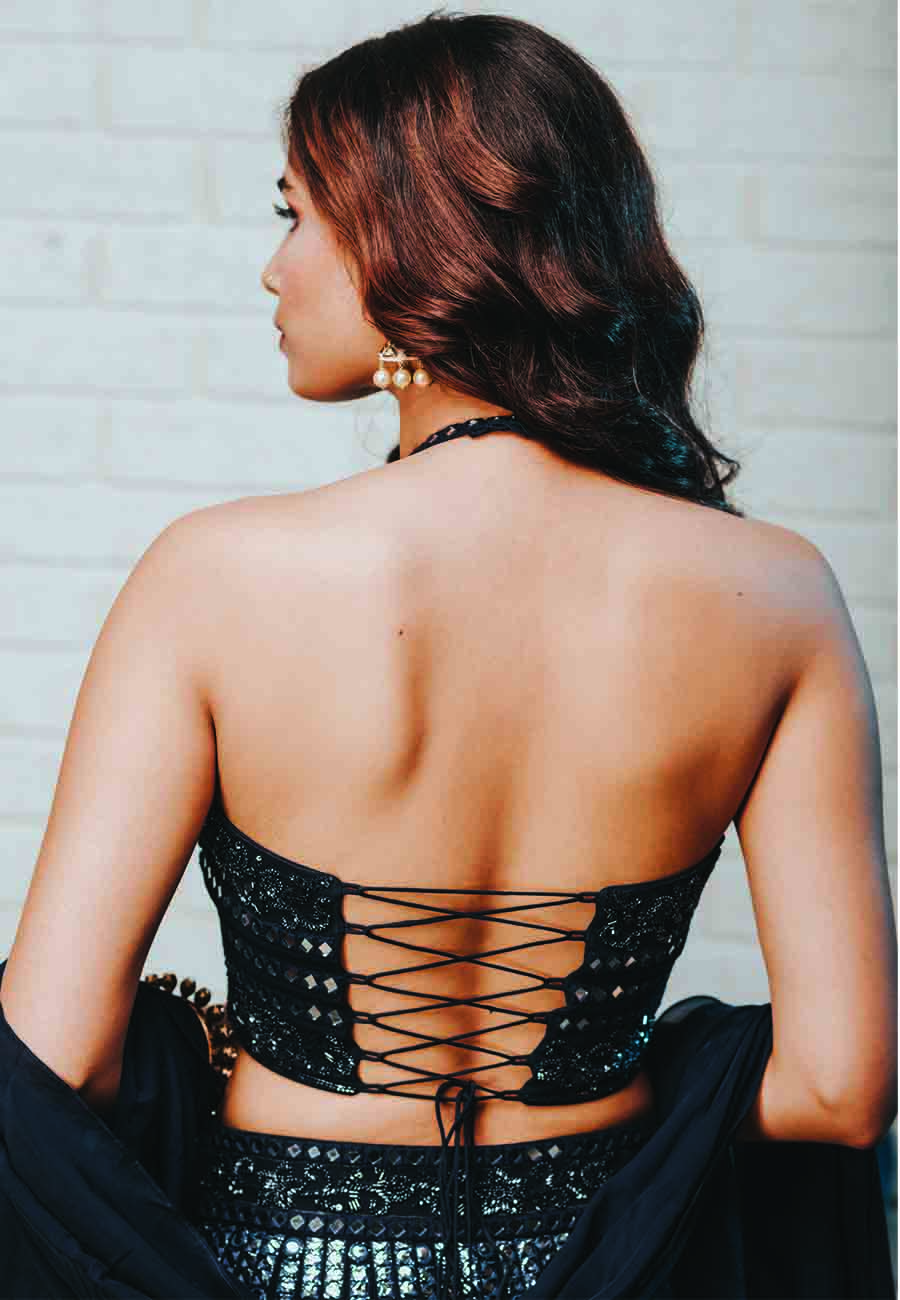 Looking for a chic and fancy way to enhance any wedding outfit? Then, criss-cross backless blouse designs are the perfect choice for you.
The unique and eye-catching design on the criss-cross blouse's back, reveals the right amount of back skin for a flirty and feminine look. This blouse design will surely turn some heads and leave an everlasting impression.
This back less blouse is best for newlywed women on special occasions, and at night out. This is one of the most loved and versatile blouse designs for women to look both beautiful and sexy.
You can wear this with a saree, lehenga, or skirt, making it a versatile piece. So why wait? Add this essential blouse piece to your wardrobe and shine your inner fashionista.
9. Complete Bare Blouse Designs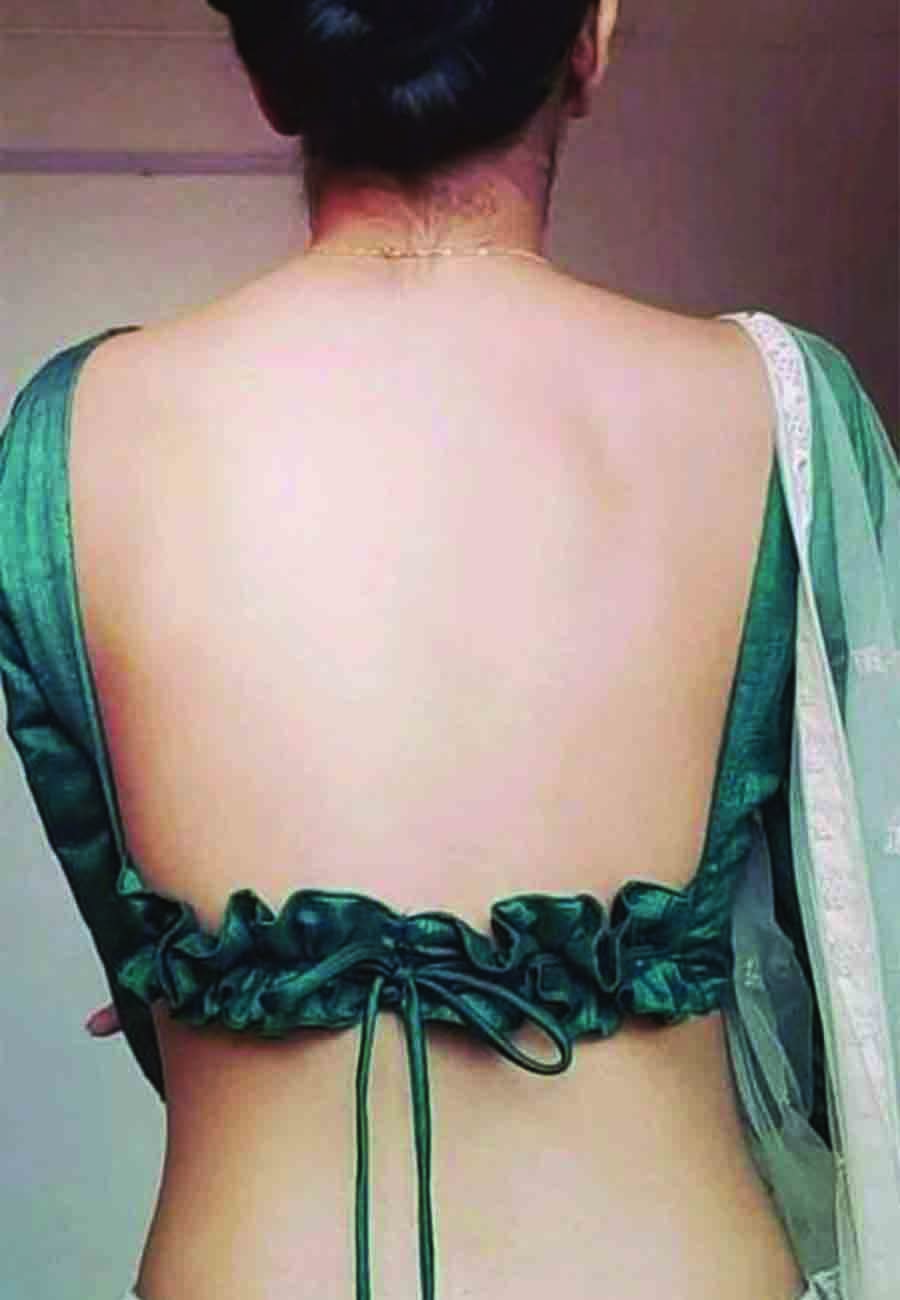 A bared-back blouse design usually exposes the full or partial back. The style or design of a bare blouse design can be achieved in many ways such as a V shape, deep backless, and complete bare cut-out on the back of the blouse.
This Backless blouse design can good choice for special events like wedding functions, parties, or red-carpet events.
This blouse can be designed using materials like silk, satin, and chiffon. And, Sequins, beads, and embroidery will add extra glamour and style to your blouse.
10. Backless Blouse with Dori Design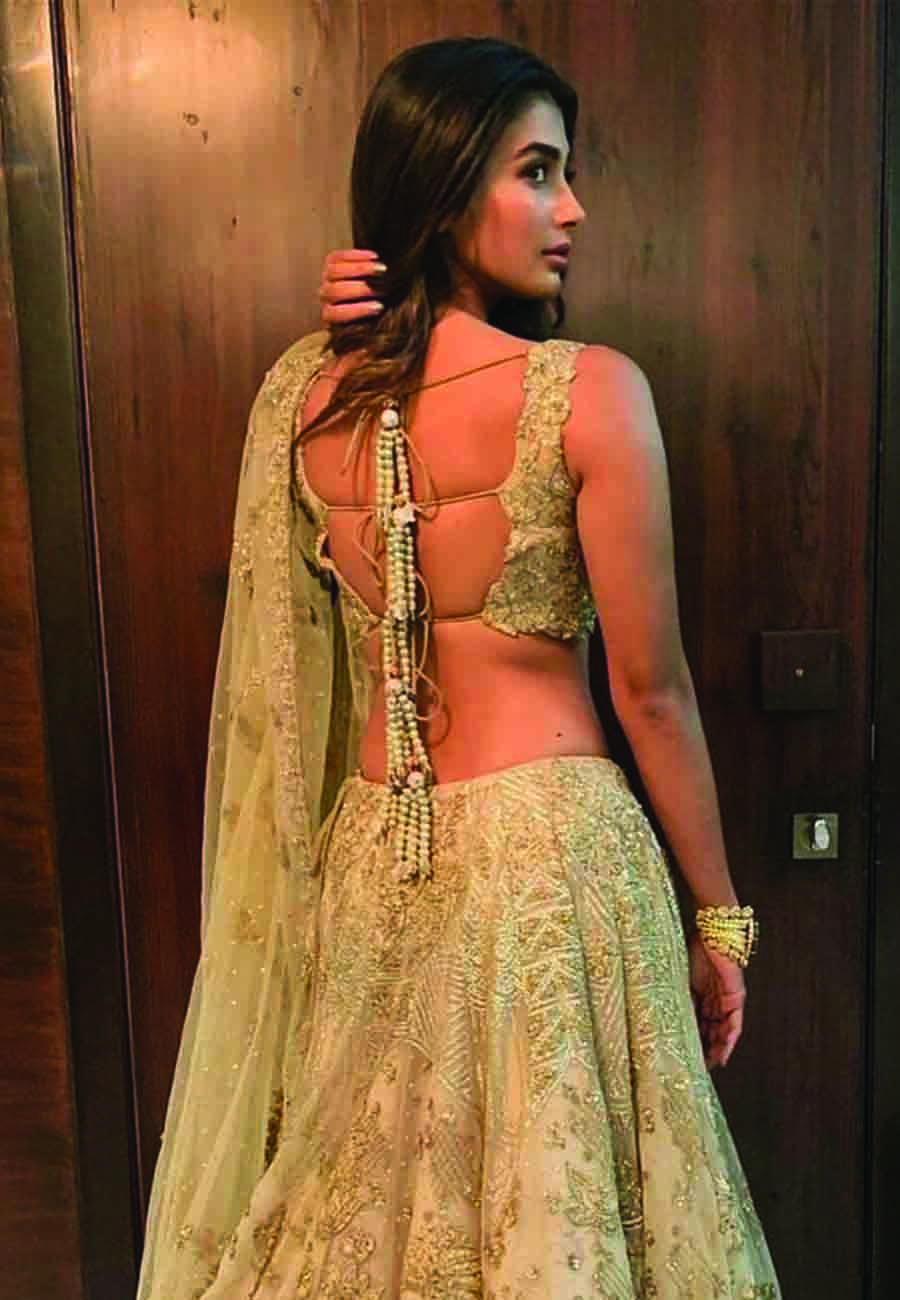 The backless blouse with the Dori design features a string or cord that runs along the back of the blouse. You can tie the dori or string in numerous ways such as a criss-cross pattern, a bow, a knot, or a creative tie-up.
Tie this blouse dori in a stylish way can add more fancy elements to the blouse design. If you want the perfect back less blouse for Saree then the Dori design blouse will be the right choice.
It's often worn with Indian sarees, lehengas, or other traditional Indian outfits. Best matching top wear on weddings functions, receptions, and other formal events.