Haldi Dress is one of the most important outfits of every wedding. This blog will give you some suggestions on how to select Haldi ceremony dresses for brides and bridemids in 2023? While reading this haldi ceremony dress blog, you will come through many designs that you can incorporate to design the best Yellow Haldi Dresses for Brides and Bridemaids.
For a girl, the wedding day means everything to her and the Haldi ceremony holds as much significance. There's so much fun going on the day when the friends and family members gather and apply Haldi on the bride and each other. Indian Haldi Ceremony turns out to be quite a party. While your lehenga for marriage is yet to be finalized and is getting made, gear yourself for the best Haldi Outfits that matches completely with your vibes. So you have a comprehensive list of suggestions regarding latest Haldi dresses for bride 2023.
Best Haldi Outfit for Brides That Serve the Looks in 2023
Your wedding day holds so much importance in your life and your Haldi ceremony is no lesser! Breathtaking Haldi Dresses for Brides and Bridesmaids to rule this wedding season 2023.
Modern Silhouette With Asymmetrical Skirt for Haldi Dress for Bride
For a bride who can roll in the haldi ceremony, these are some of the best Haldi Function dresses you can look for. Wear this skirts below a wrap tie blouse for making a phenomenal combination for getting the haldi dress look. Surely this combination is beyond words because it not only makes you look good but you can also party right with being comfortable. It's a haldi function dress for a budget friendly as well as a beautiful look.
Zardozi accessories lehenga and cold shouldered blouse with a perfectly contrasted dupatta will get you the desired charm. Such an Indian Haldi Dress will be the reason why the guests and cameramen are revolving around you to capture every moment. Haldi Ceremony dress is the dress for the day when you can look like an Indian bride and dance like a bombshell. Since you know that you are going to be banged with haldi all over, so the attire should be one that does not show much of stain with the haldi dress color.
Beautiful Yellow Saree with a Gota Patti Border for Haldi Ceremony Outfits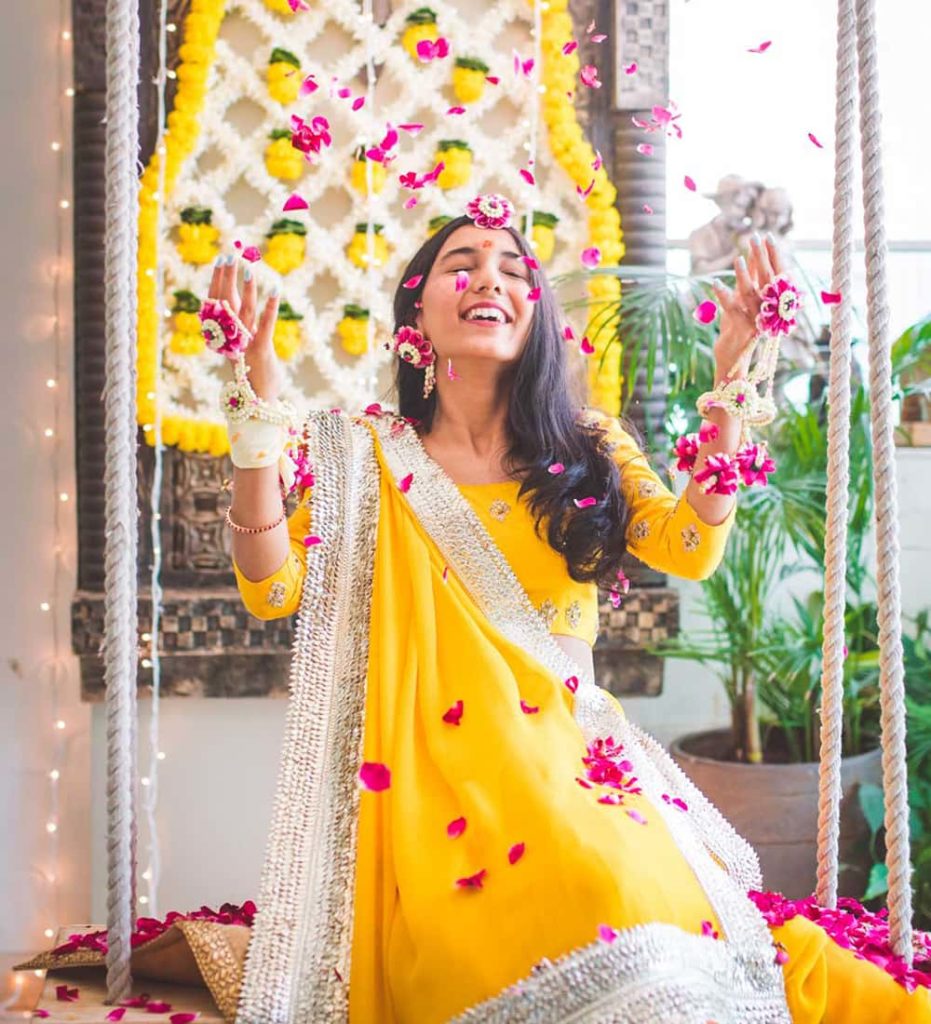 All the beautiful brides out there brace yourself to encounter this exclusive Haldi dresses for bride to glam up your Haldi Day! A classic yellow saree with an aesthetic gotta Patti border can be your ideal Haldi dress for Bride. Gear up to get painted in yellow with a heart full of blessings and love on this important day. Your candid pics will be treat to your eyes and to your Instagram, so smile wide as the luck is on your side. Further, accessorize the Haldi dress with floral jewelry to wrap up your look. With minimal add ons and you can slay your haldi day and count in your blessings. Turn on the DJ and let the fun begun as the bride is on the floor to set the vibe for the day.
Attractive Banjaran look, a Multi-Coloured Lehenga for Haldi Look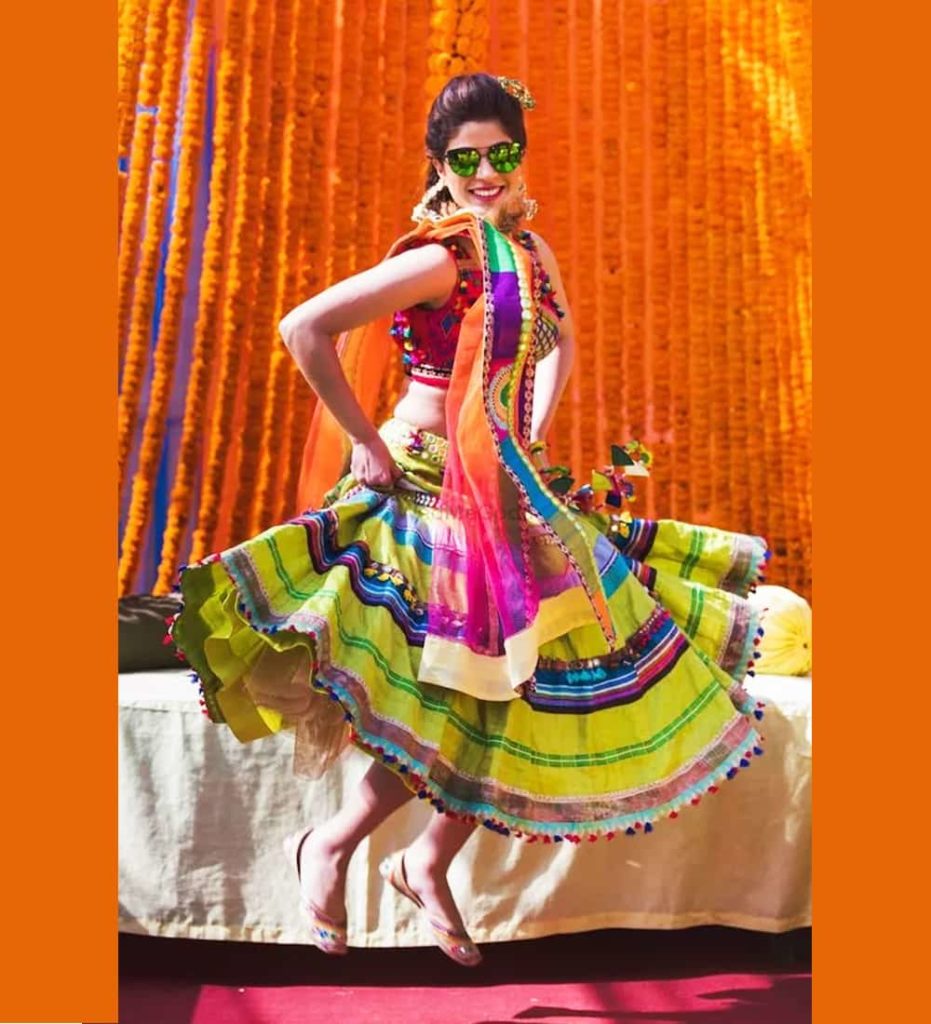 When Priyanka wore a multi-colored lehenga for her Haldi function, it was widely appraised. Follow this cue and design your haldi outfit with a lehenga full of colors. From mirror work to gotta Patti to sequins you can go for every such lehenga with a matching blouse and a solid maangtika. Braid your hair with flowers or jewelry to blossom your overall look. When all the eyes are on you, you got to add an extra effort. And when the cameraman signals to twirl, you have all the accessories to make the moment of your life special. It's time to recreate the iconic look adding a personal touch to it with haldi dress for bride.
Alluring Ghagra Or Sharara For Your Haldi Function Dress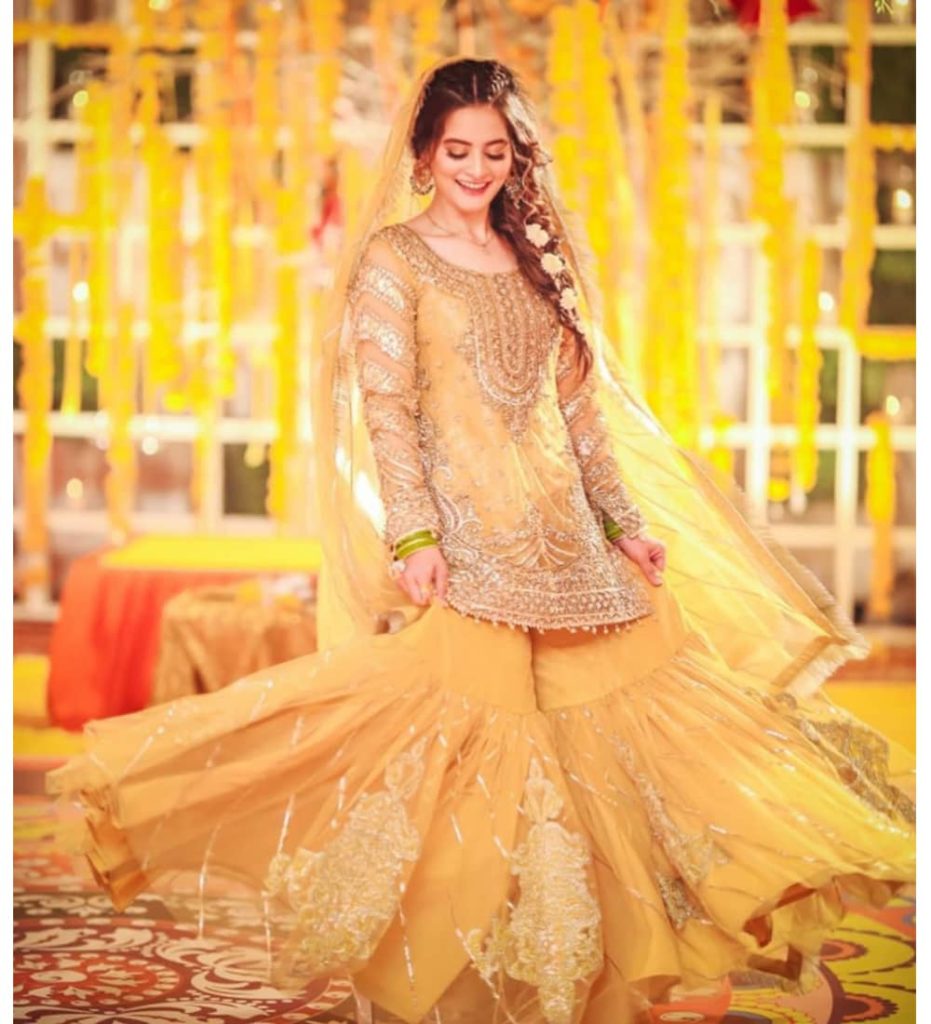 One of the significant events of Indian Weddings is Haldi Function. To match the vibe go for an exclusive Haldi Ceremony Outfit like Sharara or Gharara. With a minute difference between them both, you can have a hustle-free event and slay the overall look. Embellish your flared trouser-like outfit with zari, sequins, stones, and bead works with a matching kurta and dupatta.
Yellow color defines the Haldi Dress for Bride, so go for it and match it further. Add some aesthetic jewelry to wrap up your overall look. The ideal Haldi Ceremony Dress to enjoy the moment without any fashion barriers and have a handful of pictures to immediately post on your account. 
Scallops And Ruffles For Your Haldi Ceremony Dress 2023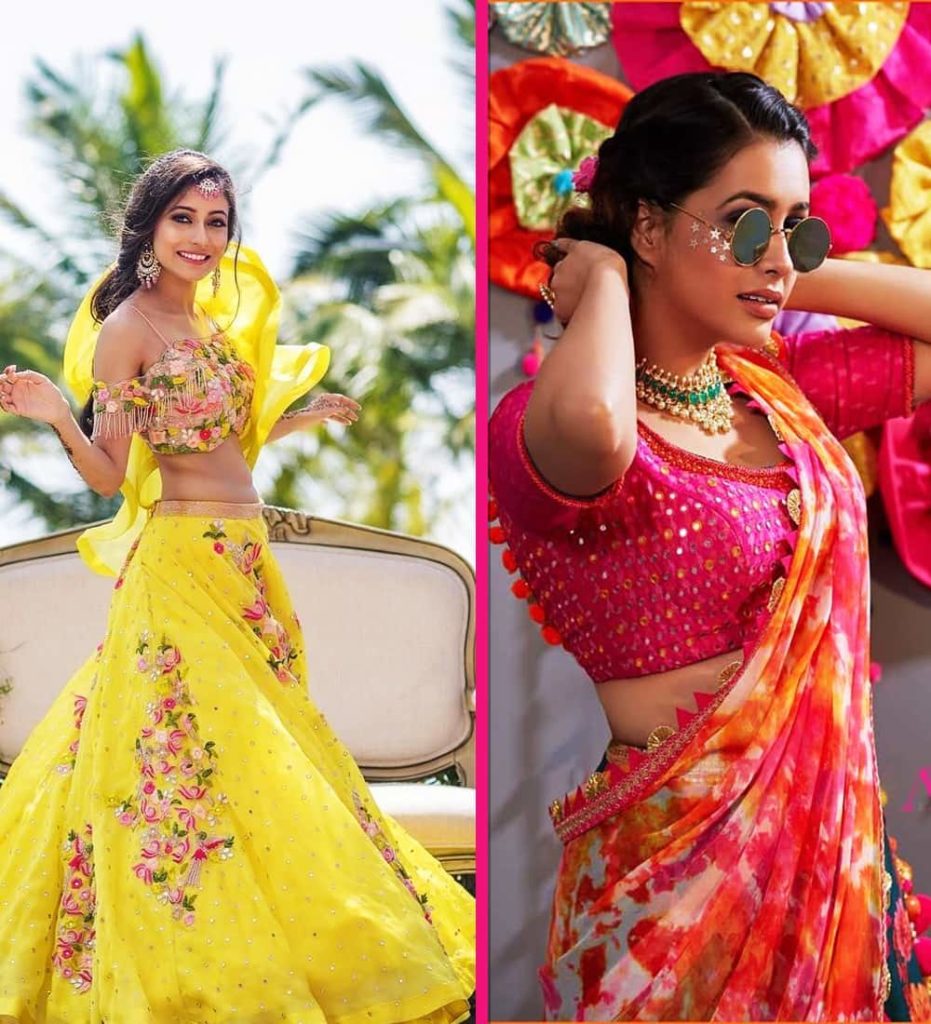 For that notorious side of our bride, we have come up with this great idea of Haldi ceremony dresses which will give you a mischievous glint to your haldi look. This silhouette will never fail you. it is unique, classic and funky and reflects a mastery of design. Trust us, if you get outfits like this, it will surely make you the sizzling bride of your haldi ceremony. Carry your confidence and your attitude in this haldi dress outfits ideas 2023. And, make everyone awestruck with Haldi outfits in wonder only for you.
Pleasing Pink And Yellow Shades for Haldi Function Dresses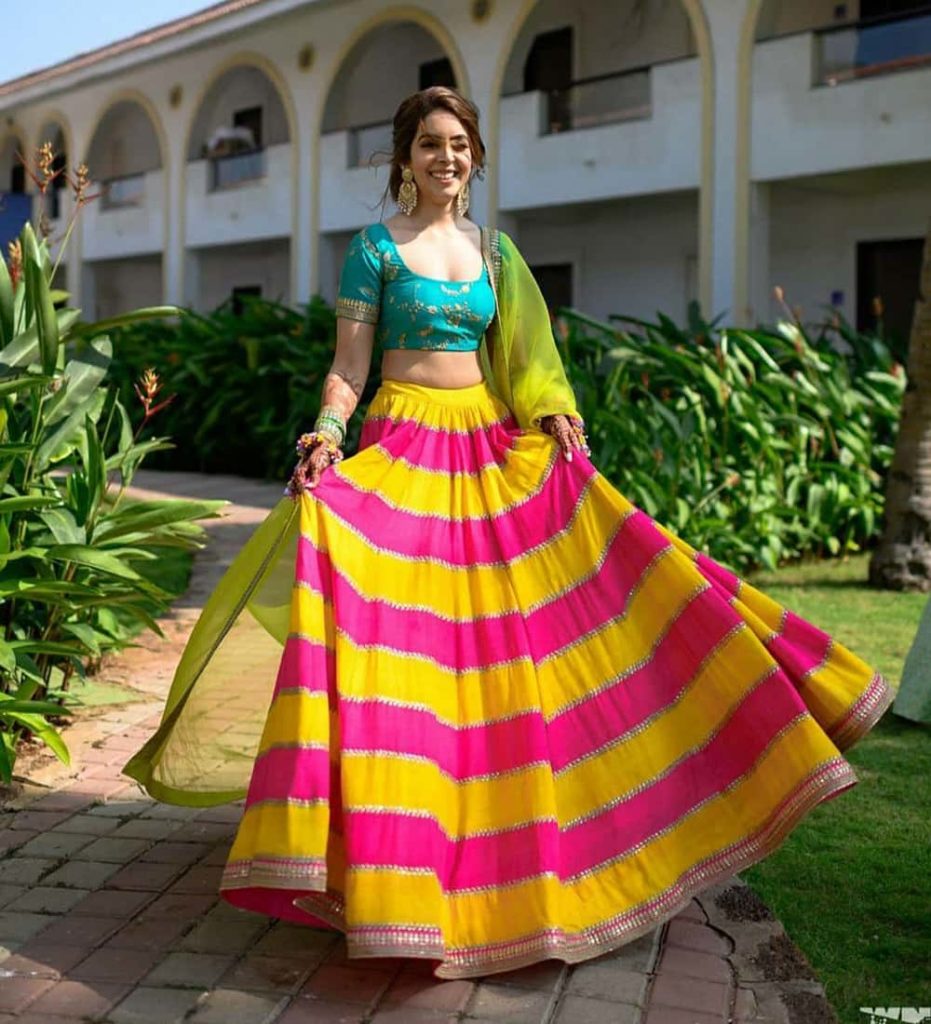 It's a no-brainer that yellow is the color for Haldi dresses for brides. However, adding a shade of pink will elevate your outfit all alone. A bridal glow-up is uncomparable, but a pink and yellow combination can thrive to fight for it. Time to stand out with the mainstream crowd and go for a yellow and pink combination with a pink blouse or crop top and a yellow skirt or lehenga or vice versa. When everyone around you is yellow you tend to have the spotlight. 
Appealing Long Skirt With A Tassel Blouse for Haldi Dress: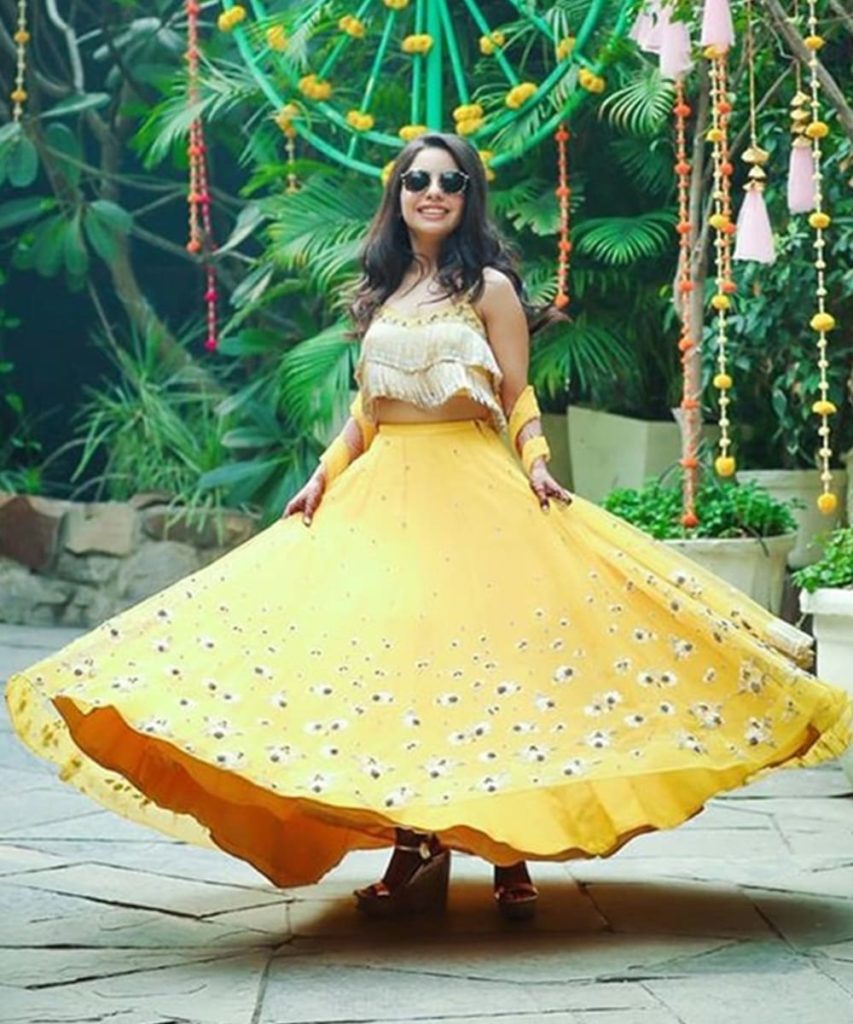 Who are the queens of this world? Girls! Hell yes! Become the queen in your Haldi Ceremony function with this mind-boggling and eye-popping Haldi look. Choose a crop top taken the look by the tassel blouse at your haldi ceremony. You will conquer heats when you will wear this haldi dresses for brides and sway here and there. You can reuse the crop top with hippy jeans or a long skirt. They will beautifully fall on your body and will add to your entire look the right kind of glitz and spark that was amiss previously.
At YOUR Haldi Function, all eyes will be glued on you and you alone sit like a princess in the middle with strokes of Haldi on your cheeks. Add only hoop earrings, so that your Haldi ceremony dresses could dazzle more in 2023.
Traditional Anarkali Suit with Mogra Jewelry for Haldi Ceremony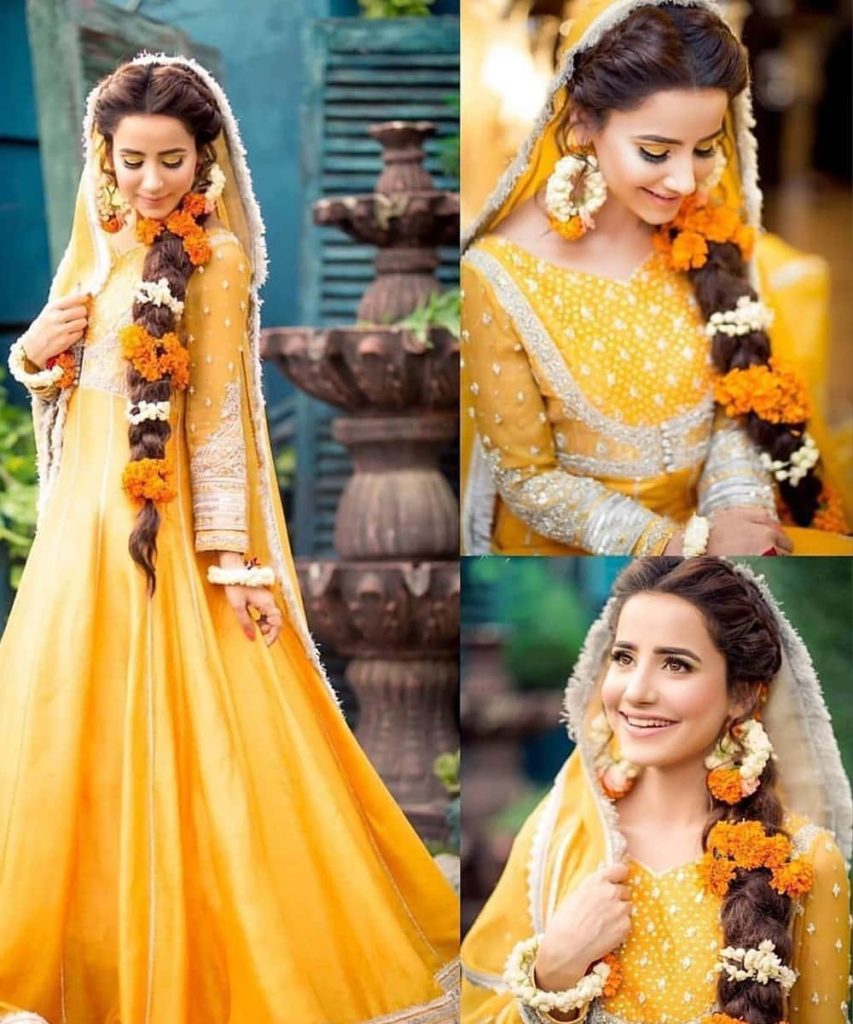 As already said before, wear something which is comfortable and soothing, traditional yet contemporary, and what's better than an Anarkali suit for Haldi ceremony dress. Style Haldi dresses for the bride with some beautiful and fresh rose flowers and mogra accessories. Maang Tika, earrings, and a floral necklace which are though common and famous will make you look gorgeous. Also, get bangles and anklets. To get beautiful pics to twirl a lot on your yellow suit for the Haldi ceremony. Extraordinary Haldi dresses for brides will surely give a classic vibe to the entire collection of your haldi function pictures.
The Indian Cinderella Look With Whole-Yellow Suit
A whole yellow suit seems to be the most favorable attire for a Haldi ceremony. No matter it is made up of crepe or silk. It will give a very bright look which will make you more adorable. Taking a dupatta is a mandatory option as, without it, the overall Haldi look may look incomplete. Either you can take a plain dupatta or can also go for a bandhej one.
Wear a beautiful choker necklace along with bangles in one hand and a simple raga watch in the other. A small bindi of any suitable color will be an add-on to your Haldi Dress.
Remember to go for a churidar style pajama, as all the other styles may look absurd.
The Marathi Mulgi Look In Yellow Nauvari Saree
This is the latest member in the clothing of Bride and Bridesmaid. This is also known as Kasta Saree. This was originated in Maharashtra but now it is considered as staple wear of the whole country. Generally, for the Dhoti look, a nauvari yellow saree is recommended for the Haldi ceremony as this saree is considered the most virtuous and awakening saree. The bride will be very comfortable as the two ends of pallu can protect the women from both sides.
To give a fusion touch, you can wear a cropped blouse of contrasting colors like orange, pink, green, maroon, etc. In addition, you can wear a floral mundavalya along with a prominent nose pin.
Go through all the 2023 ideas given above for the Haldi dresses for brides that Beyoung Blog has selected for you. Use one of them and your creativity to bring out your character and personality through it. Own them and make them yours!
What Bride Should Wear In Haldi Function?
Marriage is one of the most awaiting events in any girl's life and Haldi ceremony is one of the most happening part of an Indian marriage. But what bride should wear in Haldi is one the most difficult task. There are plenty of options available in the market to choose from, including preceding options from our article. If you want to look more sophisticated then we highly recommend you add a layer of dupatta to your Haldi dress. This will make you slay in your favorite Haldi ceremony. One more piece of advice, if you don't want to add another layer, then simply click your pictures before the Haldi ceremony and remove them so you don't feel uncomfortable. Now all you have to do is slay in your function by picking your favorite Haldi dress for bride.
So, what outfit you are planning to wear on Haldi Ceremony 2023?

Stay tuned for more fashion tips! Check out some popular Beyoung Blogs of 2023: latest bridal lehenga designs, Pregnancy Photo Shoot Ideas,  types of shoes for men, types of bags for women, Best Honeymoon Places in India, Grey Pant Matching Shirt, Different Types of Bags for Women, Different types of Kurtis, Engagement Couple Dress Ideas, White Shirt Matching Pant, Plain T shirts Colors, College Outfit Ideas, Black Shirt Combination Pant, Juda Hairstyle, party wear dress for mens in summer, types of shorts, types of shrugs , New Mehndi Designs, Kurti With Jeans, How To Wear Saree in Different Style, Types of Jeans, T shirts Brand and many more.